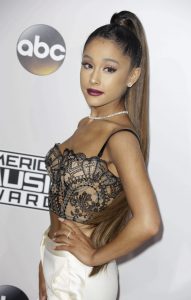 Los Angeles, Nov 21 (EFE).- U.S. artist Ariana Grande was named Artist of the Year at the American Music Awards, which had Drake and Justin Bieber as its big winners with four trophies each.
Grande triumphed in the top category of these honors against such stars as Justin Bieber, Selena Gomez, Rihanna and Carrie Underwood.
Canadian rapper Drake, who started out with a record 13 nominations, took home four statuettes, including the one for Favorite Rap/Hip-Hop Album.
This was the first time the artist has been picked for a trophy at the American Music Awards, whose winners are elected by the fans.
Justin Bieber also took four awards: Video of the Year for "Sorry," Favorite Pop/Rock Artist, Favorite Pop/Rock Album for "Purpose," and Favorite Pop/Rock Song for "Love Yourself."
Selena Gomez joined the list of winners with the award for Favorite Female Pop/Rock Artist and gave a speech that deeply moved the audience.
She spoke about how depression had left her "absolutely broken inside," but added that "I kept it all together enough to where I would never let you down."
"All I can say is I'm so grateful that I have the opportunity to be able to share what I love every day with people that I love," she said.
The gala, hosted by Jay Pharoah and Gigi Hadid, featured performances by Justin Bieber, Sting (honored with the American Music Award of Merit), Niall Horan, Maroon 5 and Kendrick Lamar, James Bay, Fifth Harmony, Lady Gaga, Green Day, DJ Khaled, John Legend, Bruno Mars, Shawn Mendes, Twenty One Pilots and The Weeknd.
Amid the music and the awards, politics reared its head when frontman Billie Joe Armstrong and the Green Day group changed the lyrics of "Bang Bang" in the midst of their performance and shouted "No Trump, no KKK, no fascist USA!"