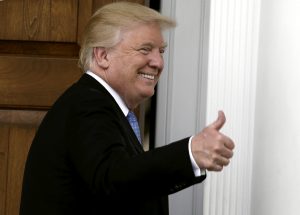 New York, Nov 23 (EFE).- US President-elect Donald Trump on Wednesday offered a prayer that the nation will begin to come together after one of the most acrimonious campaigns in decades.

"It is my prayer, that on this Thanksgiving, we begin to heal our divisions and move forward as one country, strengthened by a shared purpose and very, very common resolve," he said in a brief video released on the eve of the holiday.

"Emotions are raw and tensions just don't heal overnight," Trump acknowledged.

The Republican real estate mogul unexpectedly defeated Democrat Hillary Clinton on Nov. 8 following a contest filled with insults, mutual recriminations and heated rhetoric.

Trump said the nation must strive to "restore the bonds of trust between citizens. Because when America is unified, there is nothing beyond our reach, and I mean absolutely nothing."

The president-elect and his family will spend the Thanksgiving holiday at Trump's Mar-a-Lago resort in Palm Beach, Florida.