By Ana Malaver
Miami, Nov 26 (EFE).- Fidel Castro's death Saturday caused an emergence in Miami of old stories of the exile, of deaths and broken families, but also demands for freedom for the Cuban people and expectations that U.S. President-elect Donald Trump will demand changes in the Raul Castro government.
After the festivities, which went on until the wee hours Saturday in Little Havana's Calle Ocho, it was time to reflect on the impact on Cuba that the death of the commander of the 1959 revolution could have, or the "brain of evil" as U.S. ex-Congressman Lincoln Diaz-Balart called him.
At a press conference, Lincoln Diaz-Balart and current members of Congress Mario Diaz-Balart, Ileana Ros-Lehtinen and Carlos Curbelo said that while this is a historic day, the Cuban people remain under a dictatorship and that it's necessary to help them make Cuba a free country.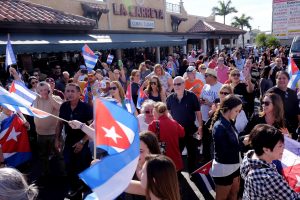 Ros-Lehtinen said she well understood why Cubans celebrated Castro's death in the streets of Miami for more than 12 hours, while all four expressed hope that starting Jan. 20 when Trump takes office, the U.S. will stop aiding the Castro dictatorship which, they believe, Obama's policy of reestablishing diplomatic relations has done, and which will allow Castro to keep succession in the family as if Cuba were his own little ranch.
Mario Diaz-Balart spoke to those who want to make a profit from Castro's Cuba, warning that this regime is on its last legs and what the U.S. must do is help the Cuban people in their fight for freedom.
Carlos Curbelo made it clear they would keep asking the next administration for its commitment to a free Cuba.
Sen. Marco Rubio put it succinctly: the dictatorship has died but the dictatorship has not.
Speaking even more harshly than the politicians about the Castro regime before television cameras and radio mics were exiled Cubans living in Miami, many telling sad and desperate stories about things that happened as much as 60 years ago, and which are basically the reason they're celebrating today.
Here were sons and daughters of people shot to death, one of whom held a picture of his father to celebrate "the death of the dinosaur," some never saw their families again and others survived dangerous crossings of the Straits of Florida in makeshift boats.
There were also people brought as children to the United States, militiamen who tried to re-enter Cuba to take power, and others who lived through the tragedy of losing all they had, many waving Cuban and American flags and all shouting "Freedom!"
There were also many young people who were present thanks to their grandparents, their parents or people who knew them, and who died before they could see a "free Cuba."