Brasilia, Nov 27 (EFE).- Brazilian President Michel Temer said Sunday that he reached an agreement with congressional leaders to prevent approval of any pardons for those charged with corruption.

"We have reached, between the executive and legislative branches, an institutional arrangement with the idea of, if it's possible, preventing the carrying out of any proposal leading to a so-called amnesty," Temer said in a joint press conference with Chamber of Deputies speaker Rodrigo Maia and Senate president Renan Calheiros.

Temer's announcement came as some lawmakers work to include pardons for certain crimes involving illegal campaign financing in a package of anti-corruption measures.
Investigators have uncovered extensive illegal campaign contributions in the probe of the scandal involving state-controlled oil giant Petrobras.

Investigators allege that a cartel of construction and engineering companies overcharged Petrobras for contracts, splitting the extra money with corrupt company executives, as well as with politicians who provided cover for the graft.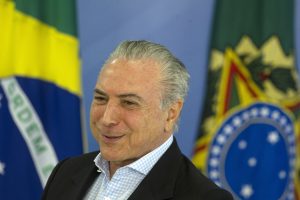 A score of large companies and around 50 politicians, including former Chamber of Deputies speaker Eduardo Cunha and Calheiros, have been implicated in the graft scheme.
The scandal forced Petrobras to write off some 6.2 billion reais (around $1.67 billion) in graft-related losses from the period between 2004 and 2014.

Temer told reporters that he was considering recording all meetings with Cabinet members following the release of a recording that raised questions about the "integrity" of the former culture minister.

"I think that clandestine recordings are unseemly, but having a minister record a conversation with the president of the republic in that manner is extremely serious," Temer said.

On Friday, Government Secretary Geddel Vieira Lima resigned amid allegations of wrongdoing pertaining to a property deal.

The resignation came after former Culture Minister Marcelo Calero accused Vieira Lima of illegally pressuring him to allow construction of a building in a historic preservation district in the northeastern city of Salvador.
Vieira Lima had purchased an apartment in that building.

Calero also told Federal Police that he felt that same pressure from Temer and the president's chief of staff, Eliseu Padilha.

The press reported Friday that a conversation between Calero and Temer was recorded on an audio tape and could lead to charges of influence-peddling.

In response, the opposition Workers' Party, or PT, told EFE that it had begun analyzing whether to seek Temer's removal from office for alleged influence-peddling.

Brazil's Senate voted on Aug. 31 to oust President Dilma Rousseff for manipulating budget figures to minimize the size of the deficit, but her supporters say the impeachment proceedings were politically motivated.