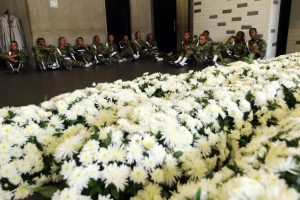 Medellin, Colombia, Nov 30 (EFE).- Thousands of people gathered Wednesday evening at Medellin's Atanasio Girardot stadium to pay tribute to Brazil's Chapecoense soccer team, most of whom were killed when their chartered plane crashed earlier in the week while flying to this northwestern Colombian city for a match.
At the start of the solemn tribute, 71 doves were released in the center of the pitch, one for each person who lost their life in the crash on Monday evening.
Six people, including three Chapecoense players, survived the accident near Medellin, which may have been caused by electrical failure and/or lack of fuel.
"Let's go, let's go, Chape," people began to shout after "Taps" was played on a bugle, halting the ceremony for several minutes.
"We're with you, Chape" and "We're all Chapecoense" – and similar statements – were to be seen on some of the signs mounted on some of the stands in the stadium, the venue where the Brazilian club was to have played Wednesday evening against Atletico Nacional in the first of two finals matches for the Copa Sudamericana.
The Atletico Nacional players were on hand wearing black uniforms and each carrying a bouquet of flowers.
A military band played a funeral march while Medellin Mayor Federico Gutierrez and Antioquia provincial Gov. Luis Perez placed floral wreaths in the center of the field.
Also attending the event were Brazil's foreign and culture ministers, Jose Serra and Roberto Freire, respectively; Cahepeco Mayor Luciano Buligon; the president of the South American Soccer Confederation, Alejandro Dominguez; and other Colombian dignitaries, as well as representatives of various soccer clubs.
Serra, in a shaky voice, thanked Colombians for their solidarity in the wake of the tragedy.