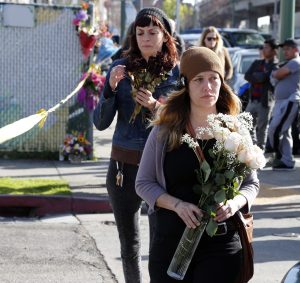 Washington, Dec 4 (EFE).- The death toll in the electronic music concert fire last week in a converted warehouse in Oakland, California, was raised to 33 by local authorities on Sunday evening.
Sgt. Ray Kelly, with the Alameda County Sheriff's Department, confirmed the figure at a press conference warning that the number of dead could rise further because there are still people missing in the wake of the tragedy.
"We anticipate that the number of victims … will increase," Kelly said on Sunday afternoon, adding later that emergency workers have now searched between 35-40 percent the ruined building and are finding more victims, and going on to say that a full search might take "days."
Kelly said that teenagers, young adults and people in their thirties are among the victims, including people from other countries, adding that authorities are now in the process of contacting the appropriate foreign embassies in Europe and Asia.
Meanwhile, Oakland Mayor Libby Schaaf said that a criminal investigation team has been activated as a precaution, noting that there are many witnesses to interview and adding that the names of the victims will be released as soon as possible but cautioning that it is too early to know the cause of the fire.
The blaze broke out before midnight Friday in Oakland's Fruitvale neighborhood in a large converted warehouse containing artists' studios and where dozens of people were attending an electronic music and dance concert.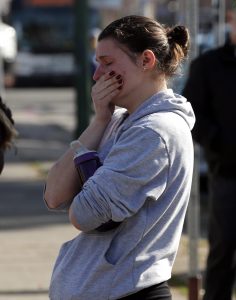 The roof of the building – known as the "Ghost Ship" warehouse – collapsed due to the fire, complicating the work of rescue teams, who have been laboring since the blaze at the site.
Oakland fire chief Melinda Drayton said that her personnel had been able to search only about 20 percent of the building, adding that firefighters were working to go through the ruins "literally bucket by bucket in a methodical, thoughtful, mindful and compassionate way."
"We had firefighters with basically coveralls and buckets and shovels taking bits of debris out into the vacant lot to be loaded into dump trucks and removed to an off-site location," she said.
Authorities confirmed that most of the victims of the fire, the cause of which is not yet known, are young people, some of them foreigners.
Before the incident, local residents had complained many times about the building, especially regarding the accumulation of trash and debris on the street nearby, the councilor for the district, Noel Gallo, said on Saturday.
More than 70 firefighters took four hours to extinguish the blaze, considered to be Oakland's worst fire since 1991, when 25 people died in a wildfire on the city's hills that destroyed thousands of homes.