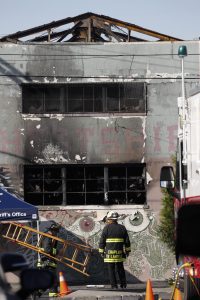 Los Angeles, Dec 5 (EFE).- President Barack Obama on Monday offered federal aid to Oakland and California after the concert tragedy, saying in a communique that his administration is working "to make sure that authorities have everything they need as they continue response operations and investigate the cause of the fire."
"Today our prayers go out to the people of Oakland, California in the aftermath of this weekend's deadly warehouse fire – one of the worst fires in the state's history," said the president in his statement.
The death toll from the fire that destroyed a warehouse in Oakland, California, where a dance party with live music was being held, now stands at 36 and the number will undoubtedly continue to climb, authorities announced earlier on Monday.
Oakland police force spokeswoman Johnna Watson told a press conference that the 36 deaths, mostly of young partygoers, have been confirmed.
After the fire, the smoldering structure was in such hazardous state that rescue work was slowed down considerably.
Authorities increased the confirmed death toll progressively over the weekend, and on Monday morning Melinda Drayton, battalion chief of the Oakland Fire Department, said "we absolutely believe that the number of fatalities will increase" as the rescue workers dig through the rubble.
The blaze broke out before midnight Friday in the Oakland neighborhood of Fruitvale, and roared through a large warehouse partly occupied by artists' studios and where dozens of people were enjoying the electronic music of the Golden Donna group on its 100% Silk West Coast Tour.
The flames brought the roof of the dilapidated building, known as "Oakland's Ghost Ship," crashing down, which has further impeded the work of rescuers.
Since long before the tragedy, local residents had often complained about the warehouse, particularly about its accumulated piles of trash and rubble, Oakland City Councilmember Noel Gallo said.
More than 70 firefighters worked at extinguishing the fire, the deadliest in Oakland's history, worse still than the one in 1991 that left 25 people dead and destroyed thousands of homes on the hills of the city.