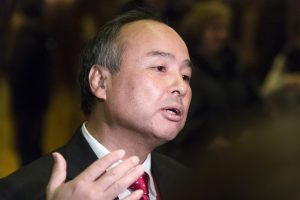 New York, Dec 6 (EFE).- Japan's SoftBank tech group has decided to invest some $50 billion in the United States, according to the consortium's top executive.
SoftBank chairman and CEO Masayoshi Son made the announcement after a 45-minute private meeting in New York with President-elect Donald Trump, who took credit for the investment in a Twitter message, claiming that his election victory led to SoftBank's move.
According to Trump, Son said that the investment will enable the group to create 50,000 new jobs, adding that SoftBank would not have made the commitment if he had not won the election.
Son confirmed the investment plans in brief remarks to reporters in the foyer of Trump Tower with the president-elect at his side, although the mogul does not usually appear there, despite having done so twice on Tuesday.
The Japanese businessman, one of his country's richest men, said that he had come to New York to "celebrate" the news.
"America will be great again," Son added, echoing Trump's campaign slogan.
SoftBank owns Sprint Corp., the US mobile telephone firm, having bought 80 percent of the firm for $22 billion in 2013. This year, the Japanese tech giant bought the British microchip manufacturing firm ARM Holdings PLC.
Two years ago, Spring sought to merge its business with another US telephone firm – T-Mobile US Inc. – but abandoned the deal after US regulators indicated they would reject the plan.