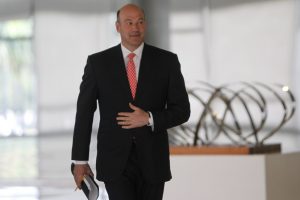 New York, Dec 9 (EFE).- US President-elect Donald Trump has offered a key White House economic post to Goldman Sachs President and Chief Operating Officer Gary Cohn, NBC News reported Friday.

Trump wants the senior executive of that leading investment bank to become his National Economic Council director, according to anonymous sources cited by the television network.

The proposal is on the table but it remains unclear if Cohn will accept it, those same sources said, adding that in late November the Goldman Sachs president began weighing the possibility of leaving the financial services giant.

Should he accept the offer, Cohn would become the latest Goldman Sachs veteran to join Trump's future administration.

Stephen Bannon, who worked for Goldman for years and served as Trump's campaign chairman, was picked to be the president-elect's chief strategist and senior counselor just days after the real-estate mogul's victory on Nov. 8.

Steven Mnuchin, a former partner at the investment bank, has been tapped for the position of treasury secretary, although that pick requires Senate confirmation.

The National Economic Council director has wide-ranging influence as the head of the agency responsible for advising the president on U.S. and global economic policy.