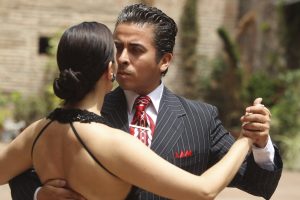 Buenos Aires, Dec 11 (EFE).- Argentina is celebrating National Tango Day on Sunday with a new twist, introducing a "national team" showcasing tango dancers from every corner of the country.
Marcela Dibon and Walter Amaya, who met two decades ago while dancing and eventually fell in love, are among the 24 couples on the Federal Tango Team.
"It's really enriching to share and come together with colleagues from across the country," Dibon told EFE, referring to the team made up of dancers from every Argentine province.
The dance team, which was created by the Culture Ministry, seeks to provide tango practitioners with opportunities for training and recognition.
Tango dancers often have a difficult time practicing their art outside Buenos Aires, the hotspot for this dance genre.
"The idea came up when we started thinking about and discussing the fact that tango does not just belong to Buenos Aires, but to all of Argentina, and that there really are dancers, musicians, singers, very talented artists, all across the country," Culture Ministry official Natalia Fossati, who is the coordinator for the national tango team, told EFE.
Tango emerged in Buenos Aires about 150 years ago and enjoyed its "golden age" in the 1940s, spreading across this South American country.
Interest in the dance form wilted later, but tango came roaring back about 20 years ago and is now popular across Argentina.
The project's goal is to "provide tools to contribute to the professional growth of all the artists who are spread out across the country and with great effort have served as standard bearers" for tango, Fossati said.
National Tango Day will be capped off with a spectacular dance exhibition on Sunday night in Corrientes, a city in northeastern Argentina, where aficionados of this dance form gather on Dec. 11 each year to celebrate the birthday of legendary legendary singer Carlos Gardel and orchestra conductor Julio de Caro.