Washington, Dec 11 (EFE).- President Barack Obama will leave office in January with US-Latin American relations in "better than ever" shape, his adviser for the region, Mark Feierstein, told EFE, adding that it would "make no sense" for President-elect Donald Trump to change US policy toward those nations too much.
"US-Latin America relations are healthier now than they've ever been," said Feierstein, who is Obama's special adviser and director for Western Hemisphere affairs on the White House National Security Council.
Therefore, Feierstein believes that, when Trump takes office on Jan. 20 and "once we get past the campaign rhetoric," he will have the "opportunity to study where we are, and to see how healthy US-Latin America relations are," coming to the conclusion that "it would not make sense to upset that in any way."
In the case of Cuba, Obama's diplomatic recognition of the communist regime there has "dramatically changed the tone in our relationships in the hemisphere with a whole variety of countries, and enabled us I think to make much more progress on other issues as well," he said.
"I think … it will be very difficult to reverse benefits … for the American people" resulting from the shift in relations, he said, adding that "it wouldn't make sense to tell Americans … you can't travel to Cuba … to tell American businesses we're gonna make it more difficult for you to … operate in Cuba. It … would not make any sense to close our Embassy and reduce the number of diplomats there."
The main change Trump has said he might make in US-Cuba policy is to simply end the rapprochement if Havana does not sign a "better" deal with him. But Feierstein said that he is "confident that anyone that does an objective assessment of what we've done in these two years would determine that it makes sense to keep in place what we have and actually to continue to move the normalization process forward."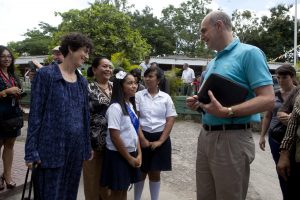 "The alternative is to go back to a policy that we tried for 50 years and (which) failed. We can't isolate Cuba if we're the only country isolating them," he said.
Trump's promises to build a wall along the US-Mexico frontier and to renegotiate or scrap the North American Free Trade Agreement have also sparked unease south of the border, but Feierstein said he thinks that the president-elect will realize that the United States "cannot be successful as a country without the collaboration and partnership of Mexico."
"Right now it's a very very strong partnership, and I'm confident that any incoming team would recognize and value that partnership and the importance of maintaining it," he said.
During Obama's administration, a peace pact was also signed between the Colombian government and the Revolutionary Armed Forces of Colombia (FARC) guerrillas and Feierstein believes that the assistance the current president and his two predecessors provided to Bogota since 2000 under Plan Colombia "was absolutely vital to (that) success. We would not have reached a point where the government is able to make a deal with the FARC."
Another key element in Obama's relationship with Latin America has been the distribution of $750 million in US aid to Honduras, Guatemala and El Salvador to deal with the root causes motivating citizens of those countries to emigrate to the United States, a human flow that in 2014 sparked a crisis with the arrival of tens of thousands of unaccompanied Central American minors to this country.
Feierstein compared the aid to those countries with Plan Colombia, calling it a "long-term proposition" and adding that "I think we're already seeing some indications that our development efforts in Central America are succeeding."
"In all three countries we've seen a decline in murder rates and in criminality in recent years, but it's gonna take some time. I think that is really the only long-term solution to reducing migration in the hemisphere, (continuing) to invest in these countries and the other thing that this large amount of assistance has given us is … some leverage over these countries," he said.
Regarding Obama's legacy in Latin America, Feierstein said that this consists of having developed "mature relationships in the way that they were not before. We have a multifaceted relationship with just about every country in the hemisphere. The region is increasingly playing a much more important global role as well."
When Obama came into office in 2009, the reigning political model for the region was the Bolivarian Alliance for the Peoples of Our America pushed by late Venezuelan President Hugo Chavez and based, in part, on antagonizing Washington.
However, according to an Obama National Security team member who spoke with EFE on condition of anonymity, nowadays the priority model is very different, as evidenced by the coming to power of Mauricio Macri in Argentina and Pedro Pablo Kuzcynski in Peru, along with the "transition in Brazil" after the ousting of Dilma Rousseff.
These are countries that want to work with the United States, and Washington with them, the unnamed official added.
Be that as it may, the country in the region that has resisted Obama most is Venezuela, where the political crisis is the "greatest challenge" facing the hemisphere at present and where there has been a lack of "goodwill" by the Nicolas Maduro government to make progress in its dialogue with the local opposition, according to the anonymous official.
Another potential threat to Obama's legacy is the fact that Trump wants to withdraw the United States from the Trans-Pacific Partnership, a move that the same official said would be regrettable given that it would mean "giving ground to China" in trade with Peru, Chile and Mexico.