Santiago, Dec 13 (EFE).- Chilean President Michelle Bachelet lent her support Tuesday to the many immigrants arriving in her country, while criticizing those who would impose strong restrictions on them or who equate the entry of foreigners to a supposed increase in crime.
"Chile is a country of immigrants. Some people seem to forget we are a country built on diversity and which throughout its history has known how to accept all that thousands of foreigners could contribute," the president said during an event of the Jesuit Refugee Service jobs program.
According to Bachelet, Chile "cannot afford to waste the work of anyone" and slammed those "who wrongly associate immigration with a kind of unfair competition in the field of labor, while others go so far as to link it with crime," she said.
Last week the conservative ex-President Sebastian Piñera (2010-2014), who is considering another run for head of state, suggested restricting the arrival of foreigners and argued that "many gangs" of criminals are made up of immigrants, for which he proposed a crackdown on immigration.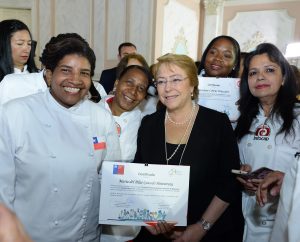 According to Piñera, foreigners are largely involved in drug trafficking, money laundering and cloning credit cards.
Official figures show, however, that while some 465,000 immigrants live in Chile, or around 2.3 percent of the population, they represent just 1.3 percent of the prison population.
The latest National Socioeconomic Status Survey (Casen) indicates that on the average, immigrants have more years of high-school and university studies than native Chileans and their wages are 28 percent higher than their local counterparts.
According to the study, eight out of every 10 immigrants are of working age, so a higher proportion is on the job than is the case with native Chileans.
Some 29 percent of immigrants (139,361) are Peruvians, 13.6 percent (63,481) are Colombians, 11.9 percent (55,184) are Argentines, and 10.1 percent (47,110) are Bolivians, while Ecuadorians make up 6.5 percent, Americans 2.4 percent, and 16.7 percent (77,759) are from the rest of Latin America and the Caribbean, chiefly Haitians and Dominicans.
"Like other globalized nations, Chile has an ongoing discussion about immigration, and it is well that we should discuss it, but with facts and not for political advantage…and principally to be aware of the new realities that are emerging," Bachelet said.