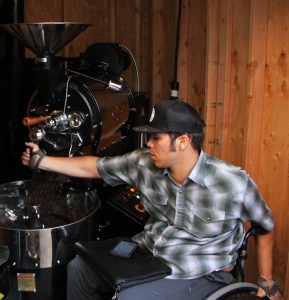 Los Angeles, Dec 15 (EFE).- A group of scientists at a California university is testing in patients with spinal cord injuries a new method of electrical stimulation to help them heal.
"The spinal cord contains alternate pathways that it can use to bypass the injury and get messages from the brain to the limbs," Dr. Daniel Lu, an associate professor of neurosurgery at the David Geffen School of Medicine at UCLA and the director of the university's Neuroplasticity and Repair Laboratory, told EFE.
"Electrical stimulation trains the spinal cord to find and use these pathways," he added.
Brian Gomez, 28 and a paraplegic for the past five years after breaking his neck in a dirt bike accident, is being treated experimentally with the method developed by researchers at UCLA's Ronald Reagan Medical Center.
The spinal stimulator, which must be surgically installed in the neck, trains the spinal nerves to find and use alternative routes, said Lu.
"We can dial up or dial down different parameters and program the stimulator to activate specific electrodes. It is an ongoing process that retrains the spinal cord and, over time, allows patients to strengthen their grip and regain mobility in their hands," the doctor added.
Gomez has had the 32-electrode stimulator installed since June near the C-5, or fifth, vertebra in his neck, just below the injury site, and the aim has been to repair his spinal cord enough to allow him to move his hands.
Injuries in that area, Lu said, are very problematic, since generally they result in loss of movement and sensation in all the extremities.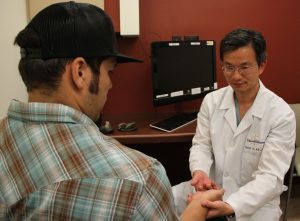 In addition to the stimulator, doctors also implanted in Gomez's lower back a "packet" with a battery and processor that is small enough to fit in the palm of the hand.
Via a remote control, the patient or his doctors can regulate the frequency and intensity of the electrical stimulus applied to the spinal cord.
Over time, Lu said, if all goes well patients will be able to strengthen their grip and recover hand mobility.
Gomez to date has had positive results, recovering partial movement in one hand.
Earlier experiments with electrical stimulation had allowed patients with injuries in the lower extremities to be able to stand and move their legs by themselves after lower spinal cord injuries, said neuroscientist Reggie Edgerton, a professor emeritus at UCLA.
However, "there was considerable skepticism in the field that we could use a similar approach to regain hand function in quadriplegic patients with injury to the upper spine. Brian's strong response to the implant has been very exciting," said Edgerton, who works closely with Lu.
"It's making a huge difference for me," said Gomez, who is the owner of a coffee-roasting business in San Dimas, California.
He said that although he burned himself on the roaster several months ago while pulling a lever after the beans had been toasted, that does not happen anymore because of the "strength and dexterity" he has developed as a result of the treatment.
The fact that Gomez, who was injured in 2011, has recovered some of his hand sensation and dexterity is very encouraging because usually spinal cord injury patients have only a few months within which rehabilitation can help them regain some of the use of their hands.
"In many ways Brian is a perfect candidate for this experimental treatment," Lu said. "He still has head-to-toe sensation, so he can give us feedback as we fine-tune the stimulator. And he is such a positive and motivated young man."
The process is a slow one and Gomez must go to the laboratory several times a week so that the stimulator can be recalibrated, but he has maintained a positive attitude.