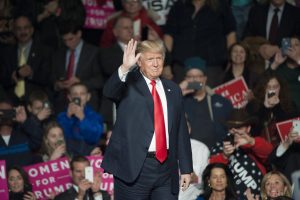 Washington, Dec 16 (EFE).- President-elect Donald Trump says that after taking office he will build safe zones in Syria to protect the civilian population and will get the Gulf states to pay for them.
"I will get the Gulf states to give us lots of money, and we'll build and help build safe zones in Syria so people can have a chance," he said during a post-election thank-you rally Thursday night in Hershey, Pennsylvania.
Trump said the United States did not have the financial resources to build the safe havens due to its $20 trillion national debt, but the president-elect said the work could be carried out by the Gulf monarchies, which "have nothing but money."
"When I look at what's going on in Syria, it's so sad," he told the packed Giant Center. "It's so sad, and we've got to help people."
Trump did not mention the battle for Aleppo, where President Bashar al-Assad's forces regained full control of the city this week from US-backed rebels after years of fighting.
Aleppo became in recent months a major point of dispute between Washington and Moscow, which has intervened in the conflict on the side of Assad, its staunchest ally in the Arab world.
US Secretary of State John Kerry on Thursday demanded that the Syrian government and Russia implement an immediate and lasting ceasefire in Aleppo and accused Damascus and Moscow of "indiscriminate and savage brutality" against civilians.
On Wednesday, White House spokesman Josh Earnest said Russia was "unable or unwilling" to rein in Assad, adding that the Syrian president "has crossed all the lines" in its alleged attacks on civilians, including children.
He said those purported tactics had been spawned by "a sick mind."
Earnest also has irked Trump this week by suggesting he was sincere when he encouraged Russia to hack Hillary Clinton's e-mails during the campaign. Trump has said he was being sarcastic when he made those remarks in July.
Trump, who has said at various times that he would bring an end to US efforts to nation-build and focus on defeating the Islamic State and other terrorist groups in the Middle East, did not comment on Aleppo on Thursday night but mocked Earnest as "a foolish guy."