By Jessica Querales
Caracas, Dec 20 (EFE).- Opposition party leaders along with scores of ordinary citizens protested Tuesday in Caracas and announced the beginning of "a new stage" of civil disobedience, during which they will occupy the streets to demand the resignation of President Nicolas Maduro.
Three political parties – Voluntad Popular (VP), Alianza Bravo Pueblo (ABP) and Vente Venezuela – called for people to come join the protest and invited other parties of the MUD opposition alliance to take part in "the struggle" for a "beautiful Venezuela."
"We're demonstrating across the country…We're not calling for anything that violates the constitution," David Smolansky, mayor of the Caracas municipality of El Hatillo, told reporters.
Lawmaker Richard Blanco said that both political organizations and civil society "will be present" in the "peaceful and democratic" demonstrations that began this Tuesday.
"From now on we won't stop our struggle…Absolutely no one will take us off the streets. All sectors of a peaceful, organized civil society will be here," the lawmaker said.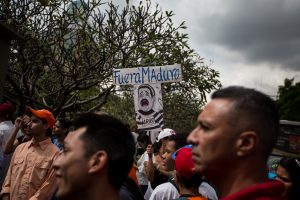 Hasler Iglesias of the Central University of Venezuela (UCV) added that "where there are situations of crisis, looting, unrest, repression, even deaths, we students stand with those who suffer."
Freddy Guevara, head of the VP party founded by jailed opposition leader Leopoldo Lopez, said the fact that this is the Christmas season won't stop them from taking action because "this has nothing to do with political opportunism."
"Whether it's December or any other time of the year, when there's looting or death or repression, the political leadership must react," he said.
Guevara urged the opposition to resume the agenda that was planned before the dialogue with the Venezuelan government was held last Oct. 30.
That agenda included the designation of new judges on the Supreme Court of Justice (TSJ), new officials for the National Electoral Council (CNE), the determination of the Venezuelan president's responsibility for the crisis in which the country is currently plunged, as well as his possible resignation from office.
For her part, Maria Corina Machado, leader of the Vente Venezuela party, called on the legislature, with its opposition majority, to "go on the offensive" and "fulfill its commitment" to continue to determine the true and full responsibility of Maduro for what they consider his unconstitutional actions.