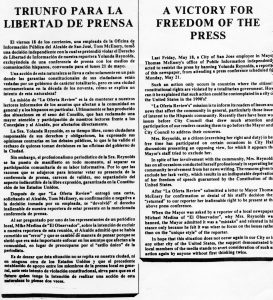 From our Editor – Last Friday. May 18, a City of San Jose employee in Mayor Thomas McEnery's office of Public information independently acted to restrict the press by banning Yolanda Reynolds, a reporter of this newspaper, from attending a press conference scheduled for Monday, May 21.
Such an action only occurs in countries where the citizen's constitutional rights are violated by a totalitarian government. How can it be explained that such action could be contemplated in a city of the United States in the 1990's'?
"La Oferta Review's" mission is to inform its readers of issues and news that affect the community in general, particularly those issues of interest to the Hispanic community. Recently there have been issues before City Council that drew much attention and participation of our readers causing them to go before the Mayor and City Council to address their concerns.
Mrs. Reynolds, as a citizen (exercising her right and duty) in her free time has participated on certain occasions in City Hall discussions presenting an opposing view, for which it appears the Mayors staff tried to exclude her.
In spite of her involvement with the community, Mrs. Reynolds has on all occasions conducted herself professionally in separating her community involvement from her news writing. The reasons given to exclude her lack verity, which results in an indisputable deprivation of her freedom of speech guaranteed by the Constitution of the United States.
After "La Oferta Review" submitted a letter to Mayor Thomas McEnery ior confirmation or denial of his staff's decision they "returned" to our reporter her inalienable right to be present at the above press conference.
When the Mayor was asked by a reporter of a local newspaper, Michael Medina of "El Observador", why Mrs. Reynolds was banned, the Mayor admitted it was a "mistake" and relented in his stance only because he felt it was wiser to focus on the issues rather than on the "unique style" of the reporter.
In hope that this situation does not occur again in our City or in any other city of the United States, the support demonstrated by local members of the media stands to avert consideration of such an action again by anyone without first thinking twice.
TRIUNFO PARA LA LIBERTAD DE PRENSA
Nota de la Redacción – El viernes 18 de los corrientes, una empleada de la Oficina de lnformación Pública del Alcalde de San José. Tom McEnery, tomó la decisión independiente con la cual se pretendió violar el Derecho de Libertad de Información de nuestra reportera Yolanda Reynolds, excluyéndola de una conferencia de prensa  con los medios de comunicación hispanos, convocada para el lunes 21 de mayo.
Una acción de esta naturaleza se lleva a cabo solamente en un país donde las garantías constitucionales de sus ciudadanos están vedadas por un gobierno de carácter totalitario, pero en una ciudad norteamericana en la década de los noventas, ¿cómo se explica un intento de esta naturaleza.
La misión de "La Oferta Review" as la de mantener a nuestros lectores informados de los asuntos que afectan a la comunidad en general y a los hispanos en particular. Últimamente se han producido dos situaciones en el seno del Concilio, que han reclamado una mayor atención y participación de nuestros lectores frente a los concejales y al alcalde, por afectarlos directamente.
La señora Yolanda Reynolds, en su tiempo libre, como ciudadana responsable de sus derechos y obligaciones, ha expresado sus opiniones contrarias en los debates públicos, lo que le ha valido el rechazo de quienes toman decisiones en las oficinas del gobierno de la Ciudad.
Sin embargo, el profesionalismo periodístico de la Sra. Reynolds se ha puesto de manifiesto en todo momento, al separar su participación comunitaria de su labor informativa. Por lo que las razones que se adujeron para intentar vetar su presencia de la conferencia de prensa, carecen de validez, eso separándolo del aspecto indiscutible de la libre expresión, garantizada en la Constitución de los Estados Unidos.
Después de que "La Oferta Review" entregó una carta, solicitando al Alcalde, Tom McEnery, su confirmación o negativa a la decisión tomada por su empleada, se "devolvió" el derecho inalienable de nuestra reportera de estar presente en la mencionada conferencia de prensa.
Al ser preguntado por uno de los representantes de un periódico local, Mike Medina de "El Observador", sobre la intención de excluir a nuestra reportera de esta reunión, el alcalde admitió que se había cometido "un error" y que se cambió de manera de pensar porque se sintió que era más importante enfocar en los asuntos que afectan a la comunidad, en lugar de preocuparse por el "estilo único" de la periodista.
Es de desear que esta situación no se repita en nuestra ciudad, ni en ninguna otra de los Estados Unidos y que el precedente establecido de apoyo entre los  miembros de la prensa local en general, ante este intento de violación constitucional, sirva para que en el futuro quien tenga la intención de realizer una acción de esta naturaleza lo piense dos veces.