Los Robles, Colombia, Dec 25 (EFE).- After spending 52 Christmases with weapons in their hands, Colombia's FARC guerrillas are celebrating their last holiday season before disbanding and laying down their arms with a mixture of emotions and fear.
The Revolutionary Armed Forces of Colombia (FARC) rebels do not fear incursions by the army these days, or air strikes or ground combat. They are grouped in pre-defined zones observing a cease-fire and waiting for the government to finish preparing the areas where they must go to turn in their weaponry and disband.
One of those spots is the village of Los Robles, in southwestern Cauca province, one of the regions hardest hit during the armed conflict but where the FARC rebels are enjoying a festive holiday, as EFE was able to verify during a recent visit.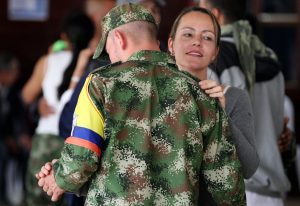 Traditional Christmas decorations and images are everywhere at the camp – colored lights and powdered snow and other things Colombians regularly use to celebrate the holidays.
Their routine, however, continues to be one of warfare: the guerrillas rise before sunrise, eat breakfast and patrol the immediate area, but they broke the routine by heading in a pickup truck to the spot where they celebrated Christmas Eve.
The female guerrillas wore makeup and advised one another on beauty tips, wearing white shirts representing peace, as other Colombians do.
None of the rebels carried any weapons – except the ones tasked with providing local security – and many of them danced until dawn at the festivities.
A good part of the FARC's "Alfonso Cano Bloc" has gathered in the area, including some who participated in the last big attack staged by the guerrillas on April 14, 2015, when they ambushed a contingent of army soldiers in the village of La Esperanza, killing 10 and wounding 20.
But on Nov. 24, 2016, the FARC signed a peace pact with the government putting an end to the five-decade-plus internal conflict.
Nowadays, the rebels are uncertain as to what they will be doing a year from now, and many are unsure whether the government will fulfill its promises under the peace pact as they follow the established procedures to reintegrate themselves into Colombian civil and political society.