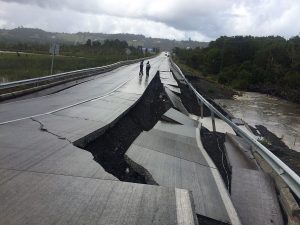 Santiago, Dec 25 (EFE).- The navy's hydrology and oceanography service has lifted the tsunami warning issued following the powerful magnitude-7.6 earthquake that affected five regions in southern Chile on Sunday.
"Based on the information gathered from stations at sea level, the evolution of the tsunami wave, field reports and modeling, the tsunami warnings have been cancelled totally and normal conditions established for all the national territory," the service said in a statement.
The powerful magnitude-7.6 earthquake that affected five regions did not kill anyone, national emergency management office director Ricardo Toro said.
"There is no loss of human life," Toro said.
Emergency management officials issued a tsunami alert and ordered coastal evacuations in the southern regions of Biobio, La Araucania, Los Lagos, Los Rios and Aysen within minutes of the temblor hitting at 11:22 am.
The tsunami alert and evacuation order were cancelled two hours later in Biobio, the region furthest from Quellon, the town on Chiloe Island where the quake was felt the strongest.
The highway to Quellon, located 1,284 kilometers (nearly 800 miles) from Santiago, has been partially cut off, Toro said.
Secondary roads and electric service have also been affected in the area, Toro said.
President Michelle Bachelet told residents of the area affected by the powerful earthquake that the "emergency protocols are in operation."
At least nine aftershocks with magnitudes ranging from 3.5 to 5.2 have been registered since the earthquake hit, the University of Chile's Seismology Institute said.
The US Geological Survey (USGS) said in a report on its Web site that the temblor had a magnitude of 7.7.
Seismic activity is common in Chile, which has been affected by a number of powerful earthquakes.
The South American country was hit by a magnitude-8.4 earthquake on Sept. 16, 2015, that killed 13 people, forced more than 9,000 others from their homes and caused extensive damage.
The earthquake caused a tsunami, forcing officials to order the evacuation of more than 1 million people living along the coast.