Santiago, Jan 3 (EFE).- A total of 222 homes have been destroyed by a forest fire that started on the weekend and is affecting the upper portion of the Chilean city of Valparaiso, although for the moment the fire appears to be under control, authorities said Tuesday.
After a meeting of the Emergency Operations Council (COE), regional Gov. Gabriel Aldoney said that 143 of the more than 400 people evacuated because of the fire are being housed at the Playa Ancha Sports Complex, adding that 20 of those people are children.
The fire, which broke out in the city's southern Laguna Verde sector on Sunday, currently "is concentrated near the cliffs, (and) we're not much concerned with that situation because the chance that it will become a problem is relatively low," Aldoney told reporters.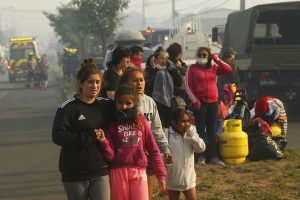 He said, however, that he remained concerned about the fact that in the coming hours the fire could change its direction of movement toward the south, since winds from the north of between 50-60 kilometers (31-37 miles) per hours have been forecast.
Thus, "we will concentrate the available aerial efforts … there. The firefighters will also focus on the zone where homes are being affected to … allow … people to be able to access the sector," he said.
The fire has injured 19 people, most of them firefighters experiencing respiratory problems, minor cuts and bruises received battling the flames. In all, 49 fire companies including Conaf forestry agency and army personnel have participated in the effort to quell the blaze, backed up by aircraft and helicopters.
President Michelle Bachelet, who traveled to the zone on Tuesday, told reporters that "the government … has been bringing resources to bear in the emergency."
"The first thing is to respond to the emergency; second, to put out the fire and prevent it from spreading. People are going to be able to count on the support that we will provide as a government and continue with the plan to rebuild Valparaiso," she emphasized, adding that people living in high-risk zones will have to be removed.
Authorities are maintaining the red alert in Valparaiso, which in April 2014 experienced a fire that killed 15 people, injured more than 500, destroyed more than 2,900 homes and damaged 12,500.
Moreover, in the community of Santo Domingo, in the far southern part of the Valparaiso region, since Sunday another forest fire has consumed 1,200 hectares (3,000 acres) of pasture, brush, pine and eucalyptus trees, destroying at least one home and was still active at least through Tuesday morning.