Mexico City, Jan 3 (EFE).- The Mexican government expressed disappointment following Tuesday's announcement by the Ford Motor Co. that was abandoning plans for a $1.6 billion assembly plant in Mexico.
Mexico will see to it that Ford reimburses the San Luis Potosi state government for any expenditures of public money made in furtherance of the project, the Economy Secretariat said in a statement.
While canceling the plant in San Luis Potosi city, the US automaker said it would spend $700 million to improve the Flat Rock Assembly Plant in Michigan.
The growth of Ford's operations in Mexico over the years reflects "a strategy of competitiveness based on global value chains in which North America competes with other regions of the world," the Economy Secretariat said.
The jobs generated by Ford in Mexico "have contributed to maintaining manufacturing jobs in the United States that otherwise would have disappeared in the face of Asian competition," the statement said, reiterating the government's commitment to making the Aztec nation more attractive to investors.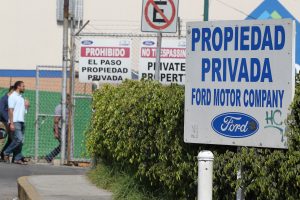 "Equally, Mexico reaffirms its stance regarding an effort to modernize the North American Free Trade Agreement (NAFTA) that strengthens the competitive capacities of North America and of each of its members," the secretariat said.
US President-elect Donald Trump said he intends to renegotiate NAFTA, which he says has been a bad deal for the United States.
Ford president and CEO Mark Fields denied Tuesday in an interview with CNN that the decision to scrap the investment in Mexico was a concession to Trump, who has criticized American companies for moving jobs abroad.
"We didn't cut a deal with Trump. We did it for our business," Fields said.
Trump has criticized Ford's plans to expand operations in Mexico and threatened in September 2016 to impose a 35 percent tariff on products made by the automaker at Mexican plants.
The president-elect took a shot on Tuesday at General Motors, threatening to slap that automaker with tariffs unless it manufactured its vehicles in the United States.
"General Motors is sending Mexican made model of Chevy Cruze to U.S. car dealers-tax free across border. Make in U.S.A. or pay big border tax!" Trump tweeted.
GM responded in a short statement, saying that the Cruze sedan was made in Ohio.
"General Motors manufactures the Chevrolet Cruze sedan in Lordstown, Ohio. All Chevrolet Cruze sedans sold in the U.S. are built in GM's assembly plant in Lordstown, Ohio. GM builds the Chevrolet Cruze hatchback for global markets in Mexico, with a small number sold in the U.S.," the automaker said.