By Bob Schulman
 The Carib Indians of the Leeward Islands must have been terrified when Christopher Columbus' 17 warships – two super-size galleons and 15 tri-masted caravels manned by a thousand soldiers in full battle gear – showed up on the former chart-maker's second voyage to the New World on Nov. 14, 1493. Even scarier must have been the fire-belching metal tubes brimming the ships' decks under immense sails flying the blazing red cross of the Roman Catholic church.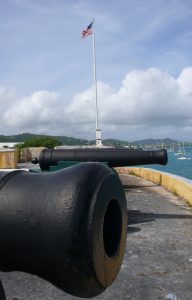 Columbus picked the largest island in the group – the Caribs called it Ay Ay – to come ashore with a couple of dozen troops. Historians say they planted a cross on the beach, blasted off a few cannon shots at the Caribs, dodged some arrows and left.
As Columbus sailed away, the story goes, he penciled in the island on his map and named it Santa Cruz (Holy Cross). Then, dazzled by the pristine beauty of the entire group of 50 or so islands in the area, he tagged them Las Virgenes after the legendary 11,000 virgin handmaidens of St. Ursula.
The Spanish cross was later replaced by the Union Jack of Great Britain, then by the flags of the Netherlands, France (which renamed the island St. Croix), the Knights of Malta, France again, and Denmark.
The American eagle has been flying over St. Croix and its neighboring islands since 1917. Back then, with World War I raging, there were fears in Washington that the Germans might set up submarine bases on the islands. So America bought them from Denmark, their owner for over 250 years, for $25 million.
So what had been Las Virgenes – and for a while the Danish Virgin Islands – became the United States Virgin Islands (www.visitusvi.com), the U.S.V.I. for short.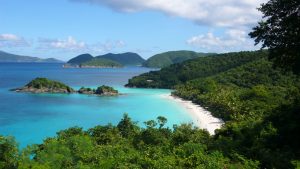 Remnants of St. Croix's six former owners can be seen all over the 28-mile-long island. Sightseeing tours take you to cannon-studded forts, 18th century sugar plantations, ancient cathedrals and old-time government buildings. You'll also get plenty of time to browse through the shopping lanes of the island's two big towns, Frederiksted and Christiansted.
Tourists quickly find that Crucians (as the local folks call themselves) enjoy a smörgåsbord of music. Listen close to the tunes pouring out of their car radios and you'll hear everything from rock to Bach — punctuated by French-inspired minuets, brassy Cuban salsas, Trinidadian-style steel drums and hip-swinging "quelbe" songs native to St. Croix.
More Saints
The U.S.V.I.'s two other main islands have been described this way: St. Thomas is where the action is, and St. John isn't.
That's not exactly true for the latter spot. It depends on what kind of action you're after. If it's eco-related or otherwise outdoors, St. John is loaded with it, two-thirds of the island having been set aside as national parklands. Visitors can enjoy Mother Nature's bounty in forests full of exotic wildlife and foliage, and on the white sands of unspoiled beaches.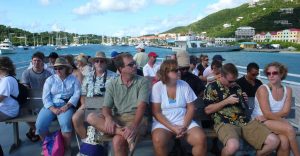 If you'd like to stay over, there's all kinds of places to bed down from campgrounds to posh resorts.
Also poking out of the bushes are a few shopping areas, mostly around the town of Cruz Bay where visitors arrive on water ferries from other islands. Wade through the trinkets, and you might come across some fine, locally made wood carvings and loomed goods, many worth lugging home.
But if you're after a full-blown shopping mecca, you'll find it a short ferry ride away on St. Thomas.
There, in the U.S.V.I. capital of Charlotte Amalie (named after the wife of an early Danish king), the streets are lined with wall-to-wall shops seemingly stretching out for miles and selling everything from lotions to laptops. Among the shops' deeply discounted buys are cameras, jewelry, watches, DVD players, cell phones, designer clothes, liquor, exotic perfumes, china and fine crystal.
Why so many shops? Because St. Thomas is one of the most popular cruise ports in the world. At Charlotte Amalie (pronounced ah-MAHL-yuh), stayover guests from the island's dozens of hotels rub elbows with some two million annual visitors from the cruise ships.
It's not unusual to see as many as 10 giant liners in the harbor at a time.
As a desk clerk put it, "If you like crowds, you'll love St. Thomas when
tens of thousands of cruise passengers pour into town at a clip."
Photos by Bob Schulman unless otherwise indicated.