July 11,1990
By Yolanda Reynolds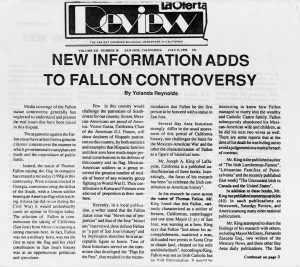 Media coverage of the Fallon statue controversy generally has neglected to understand and present the real issues that have been raised in this dispute.
The arguments against the Fallon statue have arisen from a genuine citizens' concern over the manner in which governmental issues/ plans are made and the expenditure of public funds.
Indeed. the statue of Thomas Fallon raising the flag in conquest has created a stir today (1990) in this community. Were statue erected in Georgia, commemorating the defeat of the South, with a Union soldier bearing an American flag while torching Atlanta (as did occur during the Civil War) it would undoubtedly cause an uproar in Georgia today. The selection of Fallon to commemorate the taking of California (San Jose) from Mexico is causing a strong reaction here. In fact, Fallon was not a military hero, was not the first to raise the flag and his chief contribution to San Jose's history was as an opportunistic politician and speculator.
Few in this country would challenge the patriotism of Southerners for our country. So too. Mexican-Americans are proud of America. Victor Garza. California Chair of the American G.I. Forum, will show doubters of Hispanic patriotism to this country, by both statistics and examples that Hispanic families and their sons have made major personal contributions in the defense of this country and its flag. Mexican-American soldiers as a group received the greatest number of medals of honor of any minority group fighting in World War II. Their contributions in Korea and Vietnam were also out of proportion to their numbers.
Recently. in a local publication, a writer stated that the Fallon statue issue was "blown out of proportion" and that of the four "historians" interviewed, three defend Fallon as "a part of San Jose's history" and by implication therefore he is an acceptable figure to honor. Two of these historians served on the committee that developed the "Plan for the Past". that resulted in the recommendation that Fallon be the first person to be honored with a statue in San Jose.
Several Bay Area historians strongly differ in the usual assessment of this period of California history, one challenges the basis for the Mexican-American War and the outer the characterization of Fallen as a figure of historical note.
Mr. Joseph A. King of Laffayette, California is a published author/historian of three books. Interestingly, the focus of his research has been "to celebrate the Irish contribution to American history."
In his research he came across the name of Thomas Fallon. Mr. King found that this Fallon, variously characterized as a soldier of fortune, Californian, carpetbagger and one time Mayor (1 yr.) of San Jose, was wanting as a hero. King says that Fallon "lied about his accomplishments, murdered a man, defrauded two priests in Santa Cruz to obtain land, cheated on his wife and died a drunk". According to King, Fallon was not an Irish Catholic but an Irish Episcopalian lt would be interesting to know how Fallon managed to marry into the wealthy and Catholic Castro family. Fallon subsequently abandoned his Mexican-American wife and children, as he did his next two wives as well. There are some reports that at the time of his death he was hiding out to avoid a judgement on a marital breach of contract.
Mr. King is the published author of "The Irish Lumberman-Farmer," "Lithuanian Families of Pennsylvania" and the recently published (last week) "The Uncounted Irish in Canada and the United States."
In addition to these books, Mr. King has published numerous articles (40) in such publications as Newsweek, Saturday Review, and America among many other national publications.
Mr. King attempted to share the findings of his research with others, including Mayor McEnery, Fernando Zazueta Esq., two writers of the Mercury News, and three other Bay Area daily publications. The San Francisco Chronicle, alone, published an article that revealed Mr. Kings' research on the life and accomplishments of Mr. Fallon.
Elsa Crumpley, also a published historian was unable to elicit a response from her attempts to reveal more information relative to the Mexican-American War and its impact upon Mexico and those who lived in the Southwest at that time. In her research, which she published in a book entitled "Mexico (Travels in Mexico or the Adventures of Amiga Turista)", Crumpley points out that this war came about in a "land grab" promoted by President Polk, and contrary to many current accounts, was an act of aggression that was questioned  by many Americans at that time, including Abraham Lincoln, John Quincy Adams, Ulysses S. Grant, Ralph Waldo Emerson and Henry David Thoreau among many others.
It is disturbing to discover that the important information that these historians attempted to share with most of the well-known local media was ignored in an issue that has caused so much controversy and attracted state and national interest. This controversy continues to elicit strong resentment and concern within the community and is further exacerbated when much of the media proceeds to portray a part of that community as "unpatriotic" because of its' protest.
For many of those who protested the statues proponents (particularly Mayor McEnery who published a fictional account of the life of Thomas Fallon) had violated several underlying principles of "good government" – in other words, important principles of a democratic government had been bypassed. Those principles are that the governmental process must be open, participatory and inclusive in character. In a democracy, its citizens can, should and must demand that its leaders respect and follow that process.
Hank Rosendin. a retired Superintendent of the San Jose Parks and Recreation Department, says that "Democracy makes us (the United States) great because it develops responsibility in the individual Organization – but (democracy) can not happen unless there is a meaningful involvement in the decision-making process in things that directly affect our lives at the earliest point possible".
He goes on to state "It is unfortunate that the (Fallen statue/ Plan For the Past) was developed through the use of a flawed process.". He says even the Fine Arts Commission was bypassed.
At the June 7 Redevelopment Agency/Council meeting at which the Fallon statue was discussed. Mr. Rosendin stated that, "on occasion those entrusted with the public interest use — half truths in manipulating the public." At that meeting he challenged the remarks of Redevelopment Chief, Frank Taylor, who Rosendin stated that, "on occasion those entrusted with the public interest use – half-truths in manipulating the public." At that meeting he challenged the remarks of Redevelopment Chief, Frank Taylor, who Rosendin said used such when Taylor referred to the source of funds for the Fallon statue as "a 1% developer contribution." Mr. Rosendin says that the "1% developer contribution" is a tax and that, once collected, the expenditure of those funds (taxes) is the responsibility of the Council, not the developer.
The Fallon statue controversy clearly demonstrates the lack of sensitivity and scholarship of a 'highly educated" media. Haphazard coverage of this deep and profound controversy has generally been factually incorrect, demeaning of the patriotism of the Hispanic community and misleading to its readers about the meaning of this event.
Issues that so deeply affect a community – patriotism, truth, taxes and pride, require responsible reporting not headlines and rhetoric that foster further miss understandings.
San Joseans generally feel pride in the harmonious multi-cultural character of this large city. Indeed many non-Hispanics were in attendance at the council meeting in opposition to the statue. Others sent communications which questioned and in some cases outright rejected the proposed Fallon statue. This issue was more than Mr. Fallon, the flag and the taking of California from Mexico, it a matter of what the U.S. flag stands for, which is – the practice of democracy in this country – beginning with local government.