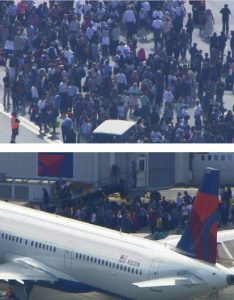 Miami, Jan 7 (EFE).- United States federal authorities said on Friday they have not ruled out terrorism as a possible motive for the attack at the Fort Lauderdale airport in Florida.

In a press conference at the airport, where the shootout left five people dead, George Piro, from the FBI Miami office, said that a motive of terrorism has not been ruled out and that all possibilities are being kept open.

Piro said authorities were reviewing the military history of the attacker, who was identified in the press conference as Esteban Santiago, who is expected to make his first appearance in a court in Broward County on Monday.

Piro added that Santiago, an ex-military member who was stationed in Iraq, used a semiautomatic pistol during the shooting after which he surrendered to authorities without any resistance.

He also confirmed that in November, New Jersey-born Santiago went to an FBI office in Anchorage, Alaska, and his erratic behavior led to him being taken into custody for a psychological evaluation.

According to authorities, Santiago left Alaska for Minneapolis and then took another flight to Fort Lauderdale.
It is not yet known what led Santiago to carry out the airport attack.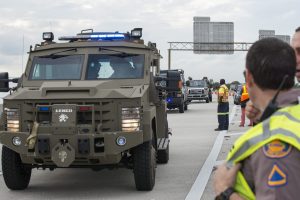 The attacker, who grew up in Puerto Rico, was stationed in Iraq for almost a year. He returned with post-traumatic stress disorder, and then moved to Alaska where he lived with his wife and son, according to authorities.

Broward County Sheriff Scott Israel reported at the press conference that the attacker arrived in the city, located 40 kilometers (25 miles) north of Miami, on a Delta airline flight before indiscriminately opening fire at Terminal 2, claiming five lives.

The shooting also left eight people injured with gunshot wounds. They have been taken to local hospitals, while 40 others have been referred to medical centers due to bruises and minor injuries.

Broward Health Medical Center surgeons said Friday that five of the eight injured had been referred to that hospital and were in a stable condition, including two who underwent operations.

Mark Gale, director of the Fort Lauderdale airport, said that in the last few hours several passengers were evacuated outside the airport facility, which is expected to return to its normal schedule at 5 am Saturday.

Eyewitnesses said that after collecting his luggage Santiago went to the bathroom from where he extracted the weapon, returned to the baggage area and began shooting randomly, but pointing to victims' heads.