Charlotte, North Carolina, Jan 7 (EFE).- A harsh winter storm extending from Alabama to New York has caused at least one death, paralyzed transportation in dozens of cities and left thousands of people without electricity amid plunging temperatures.
One person died in a vehicle crash as a result of the storm when their car slid off an icy road in Kentucky, and authorities are investigating whether another three deaths in Georgia, Oregon and main were caused by weather conditions.
North Carolina declared a state of emergency due to the storm, which so far has left some 18,000 people without electricity and caused more than 260 traffic accidents in the region.
At the Raleigh and Charlotte airports, which are operating on a curtailed scheduled, more than 120 flights have been cancelled or have experienced delays.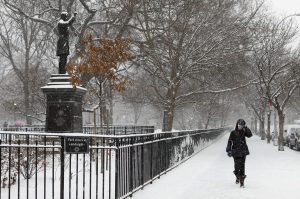 Residents in some cities in the central part of the state, including Greensboro, Winston-Salem and High Point, awoke to eight inches (20 cm) of snow, while in other cities like Mebane, some 10 in. were registered.
North Carolina Gov. Roy Cooper urged people to remain in their homes and stay off the streets in the coming hours due to the "dangerous" road conditions, including patches of ice.
Some 1,500 vehicles with the local Transportation Department are working to keep the roads and interstate highways clear.
Mecklenburg County, where the city of Charlotte is located, is the area most severely affected by power outages, while in Raleigh, the state capital, sleet has been reported.
According to the National Oceanic and Atmospheric Administration, the storm will dump huge amounts of snow in a number of states along the East Coast.
The governors of North Carolina, South Carolina, Georgia and Alabama declared states of emergency with the arrival of the storm, which will last through Saturday evening.
New York City and its environs are also suffering from the storm, with 6 in. of snow expected to fall in the Big Apple.
In Georgia, thousands of people are without power, dozens of flights have been cancelled at the Atlanta airport and at least 230 road accidents have occurred along the state's highways.
Authorities have warned that highways throughout the region will remain dangerous through the weekend due to the low temperatures that will be felt until Monday and will prevent ice and snow from melting.