Washington, Jan 10 (EFE).- Retired Marine Gen. John Kelly, nominated by President-elect Donald Trump to head the Department of Homeland Security, said Tuesday that he does not believe deporting undocumented immigrants who were brought to this country as young children and are known as "Dreamers" will be a priority under the incoming administration.

During his Senate confirmation hearing, Kelly was asked by Democratic Sen. Kamala Harris (California) if the president-elect will expel the 750,000 young people whose prospective deportation proceedings were put on hold by President Barack Obama.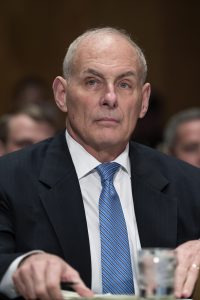 Kelly said that he did not think that deporting Dreamers would be a high priority under a Trump administration.

However, the retired general said that he has not been involved in the conversations among Trump's team to develop immigration policy for the new administration, which will take office on Jan. 20, and thus – he said – his remarks could not be indicative of what might occur.

The 750,000 young people were protected under the Deferred Action, or DACA, program implemented in 2012 by Obama via executive action, and they provided their names, addresses and other data to the government to be able to apply for immigration relief, but many immigration activists now fear that Trump will use that information to locate and deport them.

Kelly did not respond directly to the question about whether Trump could do that, but he emphasized that the DHS has only a "limited" ability to carry out the law regarding deportations, given that there are some 11 million undocumented foreigners living in the United States.

"There's a big spectrum of people who need to be dealt with," Kelly said. "Those categories would be prioritized. I would guess this category might not be the highest priority for removal."

During the election campaign, Trump said that the "Dreamers" would be deported under his administration, along with the rest of the undocumented migrants living in this country, but after winning the Nov. 8 election, he adopted a more ambiguous tone and said that the decision he would ultimately take on the matter – which he did not specify – would make people "happy and proud."

Trump acknowledged to Time magazine in December that the Dreamers were brought here as very young people, they have worked and studied here and they are in "no-man's land" because they do not know what will happen to them.

Kelly's comments run counter to those expressed on Tuesday by Trump's nominee for US attorney general, Sen. Jeff Sessions, who said that he would support the elimination of DACA, a program that he characterized as "amnesty."

Sessions said that the constitutionality of the program was "questionable," given that Obama implemented it by executive order, and it could be eliminated by Trump in the same manner once he becomes president.

Kelly joined the Marine Corps in 1970, served three tours in Iraq and his son, Marine 1st Lt. Robert Kelly, was killed in November 2010 in Afghanistan.