Mexico City, Jan 10 (EFE).- There is "no way" that Mexico will pay for the border wall that US President-elect Donald Trump has vowed to build, Foreign Relations Secretary Luis Videgaray said Tuesday.
Mexico will, however, try to negotiate with Trump once he is in the White House, because that is what the New York real estate developer "has done all his life," the foreign relations secretary said.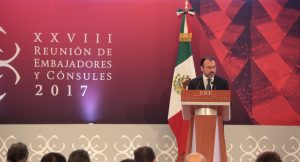 "In a relationship between two neighboring countries, there are many matters that can be negotiated, discussed, including the entire trade relationship, but there are matters that go against the dignity of a people, that are flagrant attacks on national sovereignty, and on these issues we are not going to compromise. And this is one of them," Videgaray said in an interview with Televisa.
Trump, who takes office on Jan. 20, made border security one of the top issues during the presidential campaign, saying he would build a wall along the vast US-Mexican border, which runs 3,200 kilometers (1,988 miles), to keep out drugs and illegal immigrants.
The president-elect promised that Mexico would pay for the border wall.
"There is no way that is going to happen," the foreign relations secretary said, referring to Trump's campaign promise.
Paying for the wall "is not an issue of how much it will cost, where it's coming from," Videgaray said, but "an issue of dignity and national sovereignty."
Videgaray said he was confident that Mexico would be able to negotiate with the 70-year-old Trump, who has been negotiating deals throughout his career in real estate, television and other ventures.
`The foreign relations secretary said Mexico was ready to start contacts with the Trump administration "immediately" and that the Mexican ambassador to the United States would attend the inauguration, a tradition going back decades.