THE IMMIGRATION REFORM AND CONTROL ACT (IRCA) IS UNDER ACTIVISM
August 15, 1990
By Yolanda Reynolds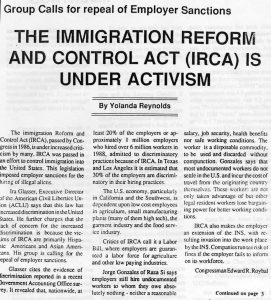 The immigration Reform and Control Act (IRCA). passed by Congress in 1986, is under increased criticism by many. IRCA was passed in an effort to control immigration into the United States. This legislation imposed employer sanctions for the hiring of illegal aliens.
Ira Glasser, Executive Director of the American Civil Liberties Union (ACLU) says that this law has increased discrimination in the United States. He further charges that the lack of concern for the increased discrimination is because the victims of IRCA are primarily Hispanic Americans and Asian Americans. His group is calling for the repeal of employer sanctions.
Glasser cites the evidence or discrimination reported in a recent Government Accounting Office survey. It reveals that, nationwide, at least 20% of the employers or approximately 1 million employers who hired over 6 million workers in 1988, admitted to discriminatory practices because of IRCA. In Texas and Los Angeles it is estimated that 30% of the employers are discriminatory in their hiring practices.
The U.S. economy, particularly in California and the Southwest, is dependent upon low cost employees in agriculture, small manufacturing plants (many of them high tech), the garment industry and the food service industry.
Critics of IRCA call it a Labor Bill, where employers are guaranteed a labor force for agriculture and other low paying industries.
Jorge Gonzales of Raza Si says employers still hire undocumented workers to whom they owe absolutely nothing – neither a reasonable salary, job security, health benefits nor safe working conditions. The worker is a disposable commodity, to be used and discarded without compunction. Gonzales says that most undocumented workers do not settle in the U.S. and incur the cost of travel from the originating country themselves. These workers are not only taken advantage of but other legal resident workers lose bargaining power for better working conditions.
IRCA also makes the employer an extension of the INS, with resulting invasion into the work place by the INS. Companies run the risk of fines if the employer fails to inform on its workforce.
Congressman Edward R. Roybal has proposed legislation that would repeal employer sanctions and asks for enforcement of 1.) current labor laws that assure for safe working conditions and minimum wage benefits, diminishing the profits to be made in hiring undocumented workers who cannot protest unfair practices; 2.) improve training and numbers of border patrol agents; 3.) impose severe penalties on those who smuggle or harbour illegal aliens for profit.
Congressman John Bryant of Texas who supports employer's sanctions, proposes instead to work through the Judicial Department by establishing regional Special Council offices whose purpose would be to investigate complaints of employer discrimination. Currently there is only one of such office and it is located on Washington D.C. His proposed legislation has two more components; one of which is educational, whereby employers will be educated on the application of IRCA and the community would be informed of their rights. Secondly, Bryant suggests that monies be set aside for economic development in the major originating immigrant countries.
Bryant's office believes that many employers are using IRCA as an excuse to carry on hiring as usual. His office says that there are some employers who are truly confused by IRCA's requirements. He feels that a strong educational component would clear up any confusion.
To date. no set time has been scheduled to have hearings on the pending proposals. Senator Roybal expects the House to hear his proposal before the end of this session in Washington.
Senate hearings on a committee report on IRCA prepared by the EEOC, the Human Rights Commission and the Attorney General is expected to take place in September.
The IRCA legislation went into effect with a number of "safeguards," one of which involved a study of the impact of this legislation. To date, there have been three surveys.
Congress had agreed to reconsider the law should it be found that IRCA was causing a widespread pattern of discrimination, but the thirty day window for repeat of IRCA following the last survey passed without action from Congress, in effect, leaving IRCA to stand as originally legislated. There are some in Congress who strongly opposed employer sanctions, fearing an increase in employer discrimination. Congressman Don Edwards and Edward Roybal of California have consistently opposed employer sanctions.
The extent of the discrimination caused by IRCA is not fully known. The GAO survey based its estimate of the percentage of prejudiced employers by the survey results which reflected the employers own sentiments and admission of prejudice.
Economic progress of the Hispanic community has been slow. Unless Hispanics and other minorities are able to compete fairly for jobs and other opportunities, economic development in those communities will also lag.
How meager that progress is can be shown in the unemployment rates over the last 23 years. ln 1965 "white" unemployment was 4.6 percent. non white unemployment was 9.2 percent. The latest national figures show that in 1988 "white" unemployment stood at 4.7 percent. Hispanic unemployment was 8.2 and Blacks had an unemployment rate of 11.7.
As bad as these figures are, it does not tell the full extent of employment because the figures above do not include those people who are not receiving unemployment money. The unemployment rate among young adult Black and Hispanic males is particularly high, in some places exceeding 50% of that population.
Raza Si, the Asian Law Alliance, Catholic Charities, C.E.T. along with others in Santa Clara Valley have formed the Coalition for Immigrant Rights and Services. This group plans to conduct a survey of lRCA's impact in Santa Clara County. The survey will be done in cooperation with the Chicano Latino Project at U.C./ Berkeley.
For more information on this issue, contact Congressman Edwards' Office in San Jose or any of the other community based organizations mentioned in this article.