Mexico City, Jan 11 (EFE).- Mexican President Enrique Peña Nieto on Wednesday rejected attempts "to influence the investment decisions of companies on the basis of fear or threats," after the repeated pressure exerted by US President-elect Donald Trump on American companies with interests in Mexico.
"We're going to defend national and foreign investments in Mexico" with an eye toward "continuing to be a trustworthy and attractive destination" for investment, the president said at the close of the meeting of Mexican ambassadors and consuls stationed around the world.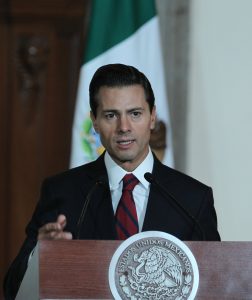 The pressure brought to bear by Trump on automakers in assorted Twitter messages last week led Ford to announce the cancellation of investing $1.6 billion in its manufacturing plant in the north-central state of San Luis Potosi.
"There must be clear rules so that the flow of capital continues in the region," Peña Nieto said to applause from the assembled diplomats.
The Mexican leader also said that in terms of the upcoming negotiations with the new US administration on trade and other matters he is in favor of reaching accords to protect current jobs, creating new sources of work and improving salaries.
"The complimentarity of the production processes among the three countries comprising NAFTA (the North American Free Trade Agreement) is one of our greatest strengths," he said, adding that he will work to strengthen competitiveness in North America among the United States, Canada and Mexico "with full respect for the rules of international trade."
The Mexican president also acknowledged that he has "some differences" with Trump, including the "construction of a (border) wall for which Mexico, of course, will not pay."