Washington, Jan 14 (EFE).- US President Barack Obama urged his countrymen to protect and safeguard democracy in his final weekly address to the nation before handing over power to President-elect Donald Trump next week.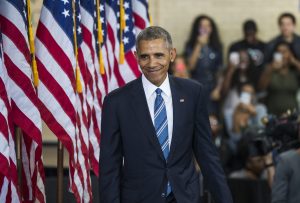 Obama reiterated the message he expressed in a farewell speech on Tuesday in Chicago, calling on Americans to remain involved in the work of citizenship and be "guardians" of democracy.

"Every day, I learned from you. You made me a better president and you made me a better man," the president said in the address, which went live on Saturday morning.

"Over the course of these eight years, I have seen the goodness, the resilience, and the hope of the American people."

"I've seen neighbors looking out for each other as we rescued our economy from the worst crisis of our lifetimes. I've hugged cancer survivors who finally know the security of affordable health care.
I've seen communities … rebuild from disaster and cities like Boston show the world that no terrorist will ever break the American spirit," he said.

Obama said it had been the honor of his lifetime to serve as US president and that he would work as a citizen for the American people for the rest of his days.

Obama's second term in office will conclude on Jan. 20, when Trump is inaugurated as the United States' 45th president.