Santiago, Jan 16 (EFE).- Chilean President Michelle Bachelet on Monday received a huge document containing citizens' suggestions for drafting a new constitution, the ideas coming out of more than 8,000 local assemblies held over the past few months to discuss the elements that the new charter must incorporate.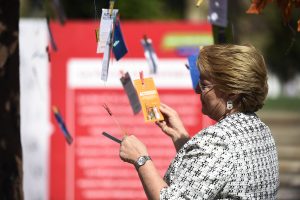 The document the president received runs to 850 pages and includes the contributions of the 204,402 people who participated in the citizens' meetings held nationwide.
Bachelet said that now that the participatory phase of the process has concluded, the institutional phase begins during which the new charter will be prepared, according to the roadmap for the process announced in October 2015.
"A modern, mature, citizen-based Constitution that conforms to our cultural changes of the last 25 years requires time to be prepared and to be lasting," said Bachelet at a ceremony held at La Moneda Palace, the government seat.
Despite that, she reiterated that before her mandate ends in March, she will send to Congress a bill to reform the current Constitution's Chapter 15, thus allowing the drafting of a new text.
The main conclusions of the citizens' meetings will form a fundamental portion of the project to draft the new document, the president said.
"Now the institutional phase begins, where using the legislative channel and political dialogue, we will move forward on the procedures to transform these suggestions into a new Constitution beloved by everyone," she added.
The current Constitution, which dates from 1980, was imposed during the 1973-1990 military dictatorship of Augusto Pinochet and it was modified during the 2000-2006 government of Socialist Ricardo Lagos.
Drafting a new constitution is one of the pillars of Bachelet's government program. The roadmap establishes that it will be the Congress that is in place after the November 2017 elections that will decide, from among four alternatives, the mechanism for discussing the project.