October 30, 1990
By Yolanda Reynolds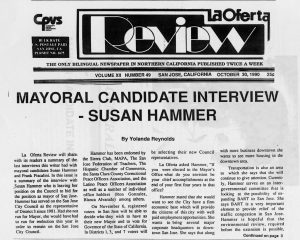 La Oferta Review will share with its readers a summary of the last interviews this writer had with mayoral candidates Susan Hammer-
and Frank Fiscalini. In this issue is a summary of the interview with Susan Hammer who is leaving her position on the Council to bid for the position as mayor of San Jose. Hammer has served on the San Jose City Council as the representative of District 3 since 1981. Had she not run for Mayor, she would have had to run for reelection this year in order to remain on the San Jose City Council.
Hammer has been endorsed by the Sierra Club. MAPA, The San Jose Federation of Teachers, The Hispanic Chamber of Commerce, the Santa Clara County Correctional Peace Officers Association, and the Latino Peace Officers Association as well as a number of individual office holders (Ron Gonzales, Blanca Alvarado) among others.
On November 6, registered voters in San Jose will be able to decide who they wish to have as their new Mayor and to vote for Governor of the State of California. In Districts 1. 3, and 7 voters will be selecting their new Council representatives.
La Oferta asked Hammer, "If you were elected to the Mayor's Office what do you envision be your chief accomplishments at the end of your first four years in that office?"
Hammer stated that she would want to see the City have a firm economic base which will provide the citizens of this city with well paid employment opportunities. She wants to bring several major corporate headquarters to town San Jose. She says that along down with more business downtown she wants to see more housing in the downtown area.
Transportation is also an area to which she says that she will continue to give attention. Currently, Hammer serves on an inter-governmental committee that is looking at the possibility of expanding BART to San Jose. She says BART is a very important element to provide relief of the
traffic congestion in San Jose. Hammer is hopeful that the environmental review, required before the extension is possible, will be completed soon – making that extension a reality in the near future.
She points out with pride that, "San Jose has done very well in developing environmental programs… its recycling program is the largest in the nation."
Even so, Hammer says that the environment is another area in which is more improvements are needed – for example. she would like to see, "100 percent reclamation of the millions of gallons of water that this City pours into the San Francisco Bay. We can and must reclaim that water. We have had a drought these last years and it affects all of us; we need water for our homes but we also need water for the electronic industry of this valley which is dependent upon having great quantities of water for the manufacture of the goods they produce. I intend to see that water reclaimed, not wasted."
Hammer says that child care continues to be a major concern of hers. She says that she was responsible for establishing the first child care program sponsored by the city. She would have as a priority the establishment of many more after school programs and, if possible.
for every school in San Jose. Hammer feels that there should be more than just child care, but, rather that there be should be a program that involves learning for the children in many ways…we need to support families and help them. She would like to see the City of San Jose provide a child care center at City Hall.
Hammer states that while on the campaign trail, she has found that people throughout the City "are very pleased with what has happened in San Jose." She says that Mayor McEnery has done a good job and is proud of the work and cooperation she has given the Mayor in bringing about the many changes that have occurred in downtown San Jose. She says. "I am proud to say that l worked very closely with him in making San Jose what it is today. I did come to the City Council as neighborhood activist and I intend to continue my interest in neighborhood activities. Hammer says that, as Mayor, she plans to have one person in her office whose sole responsibility will be to work with neighborhoods. That position will be a full-time position.
Hammer points out that, as San Jose is it diverse community, she intends that her staff and that of the City will reflect that diversity. She says. "I fully intend to make sure that more women and minorities are appointed to the City's commissions and committees. I fully intend to have the community involved in all the important decisions made in City Hall. District 3 is at District that has a very diverse community living there. As the City Council representative for District 3, I have the experience of working with a diverse community. That experience will serve me well as the next Mayor of San Jose."
La Oferta asked Hammer if she would comment on a number of other issues which have concern the community such as the City's budget and the planned expansion of the San Jose Airport. The economy is uncertain and recently there have been reports that the sales tax revenues, which are major source of money for the City's General Fund are down. She was asked how she will handle a shortfall in the General Fund if the economy slips even more.
Hammer pointed to her experience and knowledge acquired regarding the City's finances because of her service on the Finance Committee for the City. She says that she is happy to say that "the City under McEnery's leadership has handled its finances very well. Just a few short years ago we had less than two million dollars in reserve. That is no longer true. In reserve we now have 10 million dollars."
She says that the city has been able to curb its expenses with a hiring freeze a few years ago and that revenues have been up from construction, utility taxes and other revenues.
This writer has heard some reports that the increased revenues have come from increased fees rather than from increased construction. Hammer was asked to comment on that complaint.
Hammer did acknowledge that "construction has been down – not only of homes but in commercial construction as well – that is true throughout most of the country" and that San Jose we have "cost recovery" program which has helped increase its revenues.
Hammer says that with regard to the plans for expansion of the San Jose Airport she does not see expansion going as far as airport staff and contractors would like. She says, "there is a point short of the extent to which they would like to expand that I would not agree to added expansion. There are things that can be done to curb the impact of the airport so near many neighborhoods. The Stage 3 aircraft are much quieter than Stage 2. The City can require the airlines to use such
aircraft for landing in San Jose. I live near the airport and can easily tell the difference. As for expanding in a different location – that impossible – land would be too costly and furthermore there is no space available for an expansion of the airport anywhere else in the City.
Hammer, asked if there was anything else that she would like to add, responded. "Yes." Indicating that she is looking reward to taking office in January. She feels that with her experience of eight years in the City Council she "will be able to step right into the role of Mayor" and begin to work on the many projects she has envisioned for the City. She says that whether elected mayor or not, she fully intends to remain active in San Jose.
The candidates for office are clearly enjoying the last days of the campaign with every minute of their time spent at fund raising, engaging in debates, some walking door to door, attending neighborhood meetings.
In the last days before the election the voters are also busy trying to determine what the various ballot measures really mean. This year voters have one of the lengthiest ballots ever sent out. There are over 250 pages including the ballot for the voter to read.
According to George Mann, the County Registrar of Voters, around 30,000 people have registered to vote since the June primary election. The length of the ballot may discourage some of the electorate but it is worth studying very carefully. There are measures on the ballot that involve the environment, term limitations for the San Jose City Council. A proposal for District elections for the San Jose Evergreen Community College District and the San Jose Unified School District, numerous school board elections, and for some residents of the County – the opportunity to select a new member to the Santa Clara County Board of Supervisors. There are a number of statewide offices and measures, needing close scrutiny, that directly impact all of the citizens of the state.
They require that all of the voters should thoughtfully decide what they believes good for the state.
Tuesday November 6 is election day. It will be a long day for many, particularly for those people who work in the Registrar of Voters
Office. Democracy can be slow and awkward at times, but it is still the very best governmental system that has been devised.
The polling booths open at 7 a.m. and close at 8 p.m.