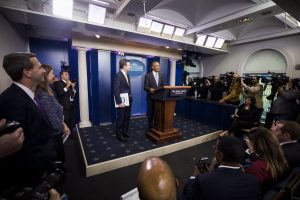 Washington, Jan 17 (EFE).- Outgoing President Barack Obama on Tuesday interrupted the last daily White House press conference of his spokesman, Josh Earnest, to thank him for his work and tell him he is "proud" of him.
Earnest, who has been Obama's press secretary since 2014, began his last press briefing in the jammed White House press room, giving a review of his activities in Washington, where he had moved from Texas in January 2001, and his job as the president's spokesman.
At a certain point in Ernest's 354th briefing, however, Obama paid a surprise visit to the press room.
Taking the podium, Obama said that he first met Earnest in Iowa and what most impressed him about the younger man was his "integrity" and that he was a fundamentally "honest" person.
Earnest is not only a great spokesman, Obama said, but more importantly, he is a "very, very, very good man and I'm really proud of you." Obama then embraced the press secretary.
The president has had three press secretaries in his eight years in the White House: Robert Gibbs (2009-2011), Jay Carney, through mid-2014 and finally Earnest.
Obama will give his own last press conference as president, two days before handing over the office to President-elect Donald Trump.
The soon-to-be-ex-president and his family will leave Washington on Friday after the inauguration and will head to Palm Springs, California, for a rest, Earnest said.
Outgoing presidents usually make their last flight on the presidential jet after they have left office and, in those cases, although the aircraft is the same it is not called Air Force One, which is the designation reserved for it when the serving president is on board.