Lima, Jan 19 (EFE).- Nearly 500 years after the first Spaniards in Peru raided the sanctuary of Pachacamac, a major pre-Columbian deity, their steps have been retraced in a tour of the ruins of that site's ancient temples and palaces.
Walking along roads excavated from the desert around Lima, a small group of tourists covered the "Route of the Spaniards," a guided visit organized by the Pachacamac Site Museum on the 482nd anniversary of the Spanish founding of Lima.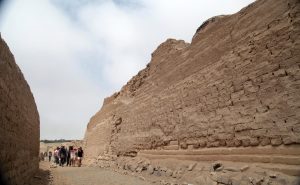 Visitors strolled on the monumental pyramids, entered the governor's palace and reached the painted temple of Pachacamac at the sanctuary, where a wooden idol of that major deity and oracle of the central coast of Ancient Peru – known as the god of earthquakes – is preserved in an on-site museum.

"Chronicles from that time tell us this was the most important religious site on the coast and the most renowned after Cuzco," Pachacamac archaeologist Rommel Angeles told EFE.

Wednesday's tour began at the sanctuary's entrance, where 20 men on horseback and under the command of Hernando Pizarro, brother of Conquistador Francisco Pizarro, arrived early in 1533 from the Andean city of Jauja, the first capital of the Spanish Viceroyalty of Peru.

The European invaders rode horses along Qhapaq Ñan – the 30,000-kilometer (18,640-mile) Inca road network – to Pachacamac, which stands at the intersection of a coastal route and a road that links the coast to the Andes mountains.

The Spaniards arrived in at the sanctuary to collect part of the ransom demanded for the release of Inca Atahualpa, who had been captured by Pizarro's forces a few months earlier in Cajamarca, in the northern Peruvian Andes.

Once the ransom was paid, the Spaniards strangled Atahualpa.

As this episode was described for the tourists, visitors walked along the same avenue the Spaniards trod to enter Pachacamac, an imposing walkway between tall rock and adobe walls that prevented a view of the many temples and buildings on both sides of the road.

At the end of the walkway, tourists arrived at the palace of the Taurichumbi chief, the administrator of the sanctuary, who received Hernando Pizarro and his retinue.

Visitors then were led to the Pachacamac temple, where the Spanish raiders disregarded the objections of the priests, entered the temple to pillage the offerings of gold and silver left behind by pilgrims and removed the wooden idol of the deity, replacing it with a cross.

Pachacamac is still worshiped today, with pilgrims continuing to arrive at the temple with offerings to honor the equinoxes and solstices of the Andean agrarian calendar.