Washington, Jan 20 (EFE).- Hundreds of people formed long lines before dawn Friday to pass through security checkpoints into Washington's National Mall to attend the inauguration of the president-elect of the United States, while forecasts indicate a high probability of rain for Donald Trump's swearing-in ceremony at noon on the steps of the US Capitol.

In downtown Washington there was heavy traffic of buses, while police cars lined the streets near the White House and along Pennsylvania Avenue. The presence of the Secret Service, the agency tasked with protecting the US president, was also evident.

Metro, the subway train service in the US capital and its metropolitan area, began operations earlier than normal, but the stations located between Capitol and the White House will be closed for the day.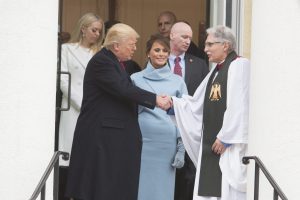 Forecasters put at 65 percent the probability of rain at noon when Trump, 70, will become the 45th president of the United States, succeeding Barack Obama who served two terms in the White House.

Temperatures early in the morning were around 9 C (48 F), above normal for this time of the year in Washington.

Trump and his family attended a religious service prior to the inauguration ceremony and then headed for the White House for tea with Obama and his wife, Michelle.

The inauguration ceremony will start at 11:30 am on the steps of the US Congress, where Trump will take the oath of office using both his childhood Bible and the Lincoln Bible.

The Lincoln Bible was used by Obama in his two inaugurations in 2009 and 2013.

Roughly 28,000 members of different security forces have been deployed since early Friday to secure the perimeter around the National Mall, including barricades with buses and concrete barriers to prevent "lone wolf" attacks with trucks similar to the terrorist incidents in Nice and Berlin.

An estimated 900,000 people are expected to attend Trump's inauguration, including tens of thousands of protestors whose presence could make the occasion one of the most conflictive inaugurations in memory.