Santiago, Jan 21 (EFE).- The president of France praised Chile Saturday as a stable country that is open to the world at the start of a two-day visit that will have a heavy economic focus.
Francois Hollande is the third French president to make an official trip to Chile after Jacques Chirac in 2006 and Charles de Gaulle's historic visit in 1964.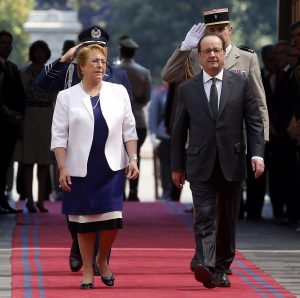 The French head of state, who arrived in Chile accompanied by a business delegation, laid a wreath at the monument to Chilean independence leader Bernardo O'Higgins and later met at La Moneda Palace with Chilean President Michelle Bachelet.
"Chile is today a stable country politically, dynamic from an economic perspective and open to the world. It's an example for all," Hollande said in a speech at La Moneda, where he and Bachelet jointly signed several accords.
He said he was aware that he had arrived at a painful time for Chile, where years of drought have triggered massive wildfires.
Hollande added that the blazes confirm how important it is for the two countries to respect their commitments under the December 2015 Paris climate agreement.
The French president said his country was eager to cooperate in Chile's economic development and that was why numerous heads of companies had joined him for the visit, noting that a total of 250 French firms have a presence in Santiago.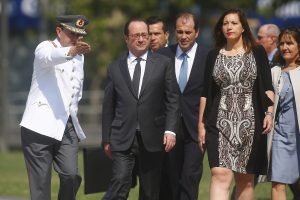 Later, both leaders will inaugurate a scientific and academic forum as part of the opening of the Franco-Chilean Year of Innovation, as well as launch an economic workshop.
Hollande and Bachelet also will visit the Museum of Memory and Human Rights, which houses documents and other material pertaining to the brutal repression of dissent under Gen. Augusto Pinochet's 1973-1990 dictatorship.
The French president furthermore is scheduled to visit French telemedicine start-up AccuHealth and meet at his company's embassy in Santiago with representatives of the French expat community.
Bachelet, who met in Paris with the French president in 2015 and 2016, also will host a dinner in Hollande's honor later Saturday.
Hollande will travel on to Colombia before returning to France on Tuesday.