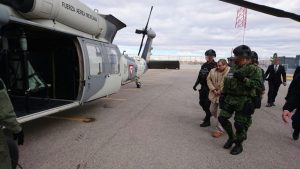 Mexico City, Jan 20 (EFE).- The extradition of Joaquin "el Chapo" Guzman to the United States must have been used by Mexico's government as a bargaining chip with its northern neighbor and was necessary due to widespread corruption in the Aztec nation, several citizens told EFE.
"They carefully calculated the political timing. It's not clear if it's a gift to (Barack) Obama or to negotiate with Donald Trump. There will always be a doubt as to whom the gift of Chapo's extradition is for, but it must be to negotiate something," graphic designer Jose Morales said.
Morales, a Mexico City resident, said Guzman would be under greater control in the US, have fewer privileges and be completely isolated, he added.
Retiree Mario Canaletas said "el Chapo" (Shorty) Guzman was supposed to have been tried in Mexico but could have escaped again due to pervasive corruption in his homeland.
He was referring to prison breaks that Guzman pulled off in 2001 and 2015.
He was most recently recaptured on Jan. 8, 2016 in his native state of Sinaloa, six months after escaping a maximum-security prison in the central state of Mexico through a mile-long tunnel dug to his cell.
Although Guzman is wanted in six US states, he will be prosecuted in a joint Miami-New York indictment in Brooklyn, prosecutors said Friday in a press conference.
But housewife Angelica Gonzalez opposed the decision to extradite Guzman, saying there is corruption everywhere, and Julieta Hernandez, a business administration student, said Guzman's extradition to the US must have been the drug kingpin's decision.
"One way or another, he's bought and paid for everything. It's always his doing. And I suppose that if he's there it's for a reason," she said.
Mexico's Foreign Relations Secretariat (SRE) said in a statement that it granted a US request to try Guzman for some charges not included in its May 2016 authorization of his extradition.
The SRE approved the extradition then for charges including criminal conspiracy, racketeering, weapons possession, homicide and money laundering.
Mexico extradited Guzman in the final hours of Obama's administration after a court denied two injunctions filed by Guzman's defense team to avoid his handover to US authorities.
The drug lord, who is being arraigned in a federal court in Brooklyn on Friday, faces a 17-count indictment, including a charge that he headed up a continuing criminal enterprise – the Sinaloa drug cartel – from 1989 to 2014.
If convicted, he could be sentenced to life in prison.
Mexico, which abolished capital punishment in 2005, was given assurances that Guzman would not receive the death penalty.