Washington, Jan 21 (EFE).- The newly-inaugurated president of the United States said Friday the defense and national security heads, confirmed by the Senate the same day, will immediately get down to securing America's borders, defending the country and rebuilding its military.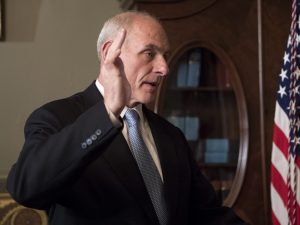 The two retired generals, James Mattis and John Kelly, now the defense and national security chiefs, respectively, became the first two nominees of Donald Trump's cabinet to be confirmed by the Senate and have already taken oath before Vice President Mike Pence.
"These uniquely qualified leaders will immediately begin the important work of rebuilding our military, defending our nation and securing our borders. I am proud to have these two American heroes join my administration," said Trump in a statement.
The new American leader also asked senators to fulfil their constitutional duty and swiftly confirm his remaining picks for top posts so the cabinet could begin work without further delay.
Despite the margins of Mattis and Kelly's confirmations – Mattis won overwhelmingly with 98 votes for and only one against him, and Kelly obtained a comfortable 88-11 – other Trump nominees are expected to face more hurdles in their path to being approved.
Notable amongst these will be the president's pick for attorney general, Jeff Sessions, for health secretary, Tom Price, and for heading the Environmental Protection Agency, Scott Pruitt.