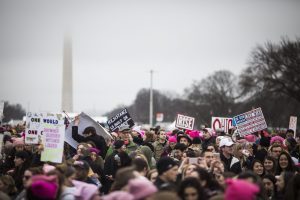 Washington, Jan 21 (EFE).- Thousands of people began gathering Saturday on the streets of the United States' capital to take part in the Women's March on Washington, which is expected to be one of the biggest demonstrations in US history.
Organizers initially said they expected some 250,000 people to participate in defense of diversity, equality and women's rights, which they say are under threat with the coming to power of new US President Donald Trump.
But that projection has been doubled to as many as 500,000 people, according to organizers and authorities in the US capital.
EFE observed that metro stations in the Washington metropolitan area were packed early Saturday with people heading for the march, which was promoted by Hollywood stars and other celebrities including Scarlett Johansson, Katy Perry, Julianne Moore and America Ferrera.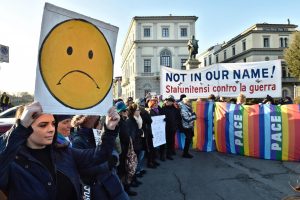 Ferrera, a Honduran native, was one of the first speakers at a rally point set up near the Capitol building, saying it was a sad time to be a woman and an immigrant in the US.
"But the president is not America. His Cabinet is not America. Congress is not America. We are America. And we are here to stay," she said.
The march will begin at 1:15 pm near the rally point, proceed down the National Mall and conclude at 4:00 pm at the Washington Monument
Scarlett Johansson, Ashley Judd and prominent liberal documentary filmmaker Michael Moore will be among the speakers on Saturday.
Democratic presidential candidate Hillary Clinton, whom Trump defeated in the Nov. 8 election, praised the demonstrators in a Saturday morning tweet.
"Thanks for standing, speaking & marching for our values @womensmarch. Important as ever.
I truly believe we're always Stronger Together," Clinton wrote on Twitter.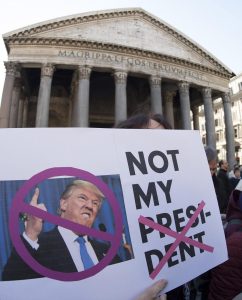 Among the symbols of the march are pink pussycat hats, which thousands of demonstrators are wearing to mock Trump for comments caught on a 2005 video clip, in which the then-reality TV star boasted about leveraging his celebrity status to grope women with impunity.
Hundreds of sister marches are taking place Saturday across the US, while demonstrations were also held in cities such as Buenos Aires, Lima, Bogota, Madrid, Barcelona and Granada, Spain.
The origin for the mass march was a group of young people who could not believe that Trump, who has been the target of sexual assault allegations by several female accusers and has made denigrating comments about women, won the presidency.
Since then, the movement has grown and now encompasses a wide range of progressive demands, from equal pay for women to abortion rights to the defense of the rights of immigrants, gays and Muslims, as well as labor and environmental concerns.