Washington, Jan 20 (EFE).- Just-inaugurated US President Donald Trump signed an executive order on Friday mandating unspecified steps to "ease the burden" of predecessor Barack Obama's healthcare reform, popularly known as Obamacare.
The order "directs the departments and agencies to ease the burden of Obamacare as we transition to repeal and replace," White House press secretary Sean Spicer said, without offering any details.
Repealing Obamacare – officially the Affordable Care Act (ACA) – has been a Republican goal for the last six years and Trump promised to make that aspiration a reality if he became president.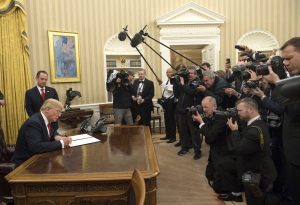 The Republican-controlled Congress has already passed legislation paving the way for the repeal of the ACA, but both the Trump team and GOP lawmakers have said they will not abruptly end Obamacare without having a replacement ready.
Besides the Obamacare executive order, Trump signed the commissions for retired Gens. James Mattis and John Kelly to assume their posts as defense secretary and secretary of homeland security, respectively.
Both men were confirmed by the Senate late Friday, just hours after Trump was sworn-in as the 45th president of the United States.
Spicer also said that White House chief of staff Reince Priebus would soon issue a memo ordering a government-wide "regulatory freeze until further notified."
The new president described his first day on the job as "busy, but good."