December 4, 1990
By Yolanda Reynolds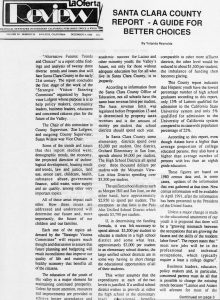 "Alternative Futures: Trends and Choices" is a report of the findings and analysis of twenty three diverse trends and issues that will face Santa Clara County in the early 21st century. The report concludes the first stage of the work of the "Strategic Vision Steering Committee" organized by Supervisor Lofgren whose purpose it is to help policy makers, community leaders, business leaders, educators and concerned citizens plan for the future of the Valley.
The Chair of this committee is County Supervisor, Zoe Lofgren, and outgoing County Supervisor, Susan Wilson was Vice Chair.
Some of the trends and issues that this report studied were; demographic trends, the economy, the projected direction of technological development, housing needs and trends, law and justice, land use, senior care, childcare, health, substance abuse, government finance, solid waste, water supply, and air quality, among other very important topics.
All of these areas impact each other. How these issues are addressed and understood will determine our future and, more importantly, the future of our children and our families.
Each one of the topics addressed by the "Strategic Visions Committee" will require much thought and discussion to assure that future planning and budgeting will result in conditions that improve our quality of life and maintain a healthy economy that benefit all of the citizens.
The education of the youth of this valley is a major element for maintaining continued prosperity. Unless far more attention, resources and improvements are provided to achieve better attendance and academic success for Latino and other minority youth; the Valley's future, not only for those without adequate education but for all who live in Santa Clara County, is in jeopardy.
According to information from the Santa Clara County Office of Education, not all schools have the same base revenue limit per student. The base revenue limit was legislated before Proposition 13 and is determined by property taxes revenues and is the amount of money per student that school districts should spend each year.
In Santa Clara County some elementary districts spend over $3,000 per student. One district. Orchard Elementary in San Jose, spends almost $4,000 per student. The High School Districts all spend over three thousand dollars per student with the Mountain View-Los Altos District spending over $3,500 per student.
The unified school districts such as Morgan Hill and San Jose, on the other hand, have approximately $2,950 to spend per student. The exception to that limit is the Palo Alto Unified School District which spends $3,790 per student.
If, in determining the funding formula, it was felt necessary to spend almost $3.500 per student to educate a student in a high school district and some what less, approximately $3.000 per student in an elementary school district, the large unified school districts are in some way having to short change the educational opportunities of all of their students.
This writer assumes that the expenditures at each of the two levels is justified. If a unified school district wishes to provide at either the high school or the elementary level, educational benefits comparable to other more affluent districts, the other level would be reduced to about $1,500 per student; the imbalance of funding then becomes glaring.
This County report indicates that Hispanic youth have the lowest percentage number of high school graduates according to this report, only 13% of Latinos qualified for admission to the California State University system and only 5% qualified for admission to the University of California system compared to its statewide population percentage of 22%.
According to this report, even though Asians have a higher than average proportion of college educated persons, they also have a higher than average number of persons with less than an eighth grade education.
These figures are based on 1980 census data and, in some cases, updates of the information that was gathered at that time. New census information will be available in April 1991, after the information has been presented to the President of the United States.
Unless a major change is made in the educational attainment of our youth it is projected that there will be a "growing mismatch between the occupations that are growing the fastest and the skills of the resident labor force." The report states that "most new jobs will be in the professional and technical occupations, which typically require a least a college degree".
Business leaders, educator, policy makers and, in particular, concerned parents must do all that is possible to change the existing trends because "Latinos and Asians will account for most of the County's population growth in the next 30 years and will comprise the majority of the County's workforce."
The report states that the number of jobs in Santa Clara County is expected to increase by a leverage of 15.000 annually." Many of these jobs are expected to be in the continued research and development of: better computer technology and software and biotechnological advances useful in agriculture, veterinary medicine, human diagnostics, human therapy and the food and brewing industry.
These jobs that do not require a college education are in production, craft or operative occupations. According to the 1980 census figures, 46% of the Latino workforce is employed in these occupations which, according to the report, are expected to decline except in the service area; which typically pays low salaries, has limited benefits (if any) and in some instances offers cyclical employment.
It is thus, of critical importance that Hispanic parents and community leaders work hard to provide Hispanic youth with the motivation and opportunity to develop careers in professional scientific and technological fields.
This report "Alternative Futures: Trends and Choices" and more information and can be obtained by contacting County Supervisor Lofgren's office at 299-2323.