Los Angeles, Jan 24 (EFE).- Mexican actor Anthony Quinn returns to embrace Los Angeles from the "Pope of Broadway" mural, unveiled this Tuesday after two years of undergoing restoration.
"The rise of Anthony Quinn from his humble immigrant origins to worldwide fame continues to inspire many here in Los Angeles, and that's a spirit we must preserve in our community," city councilman Jose Huizar told EFE.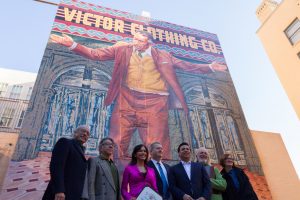 The restoration of the work by Eloy Torrez, which towers 69 feet (21 meters) high, forms part of the Bringing Back Broadway project, aimed at restoring traditional features along Broadway in Los Angeles, where the mural was painted in 1985.
"For me, Anthony Quinn and the multiple characters he played represented how I identified myself and also the diversity of this city," said Torrez, who was part of the restoration team and who unveiled his work for a second time on Tuesday.
Quinn was born in Chihuahua, Mexico, in 1915 and soon afterwards emigrated with his family to Los Angeles, where he grew up in historically Latino neighborhoods.
His versatility as an actor led him to represent a wide range of very different characters, such as in "La Strada" (1954),
"Lawrence of Arabia" (1962) and "Zorba the Greek" (1964).
He was the first Mexican actor to win two Oscars, for his roles in "Lust for Life" (1956) and "Viva Zapata!" (1952), in both cases for Best Supporting Actor.
In the mural, Torrez presents the actor as a Christian symbol with his arms outstretched, knees slightly bent and his head bowed down, in a posture similar to that of Jesus crucified.
The impact of the work has remained constant over the years and has become a don't-miss tourist attraction in the City of Angels.