January 8, 1991
By Yolanda Reynolds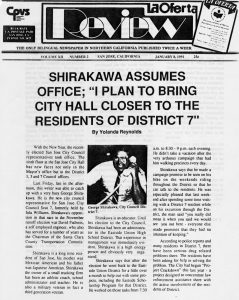 With the New Year, the recently elected San Jose City Council representatives took office. The sixth floor at the San Jose City Hall has new faces not only in the Mayor's office but in the District 1, 3 and 7 Council offices.
Last Friday, late in the afternoon, this writer was able to catch up with a very busy George Shirakawa. He is the new city council representative for San Jose City Council Seat 7, formerly held by Iola Williams. Shirakawa's opposition in that race in the November runoff election was David Fadness, a self employed engineer, who also has served for a number of years as the Chairman of the Santa Clara County Transportation Commission.
Shirakawa is a long time resident of San Jose, his mother was Mexican American and his father was Japanese American. Shirakawa the owner of a small trucking firm has been an athletic coach, school administrator and teacher. He is also a military veteran in fact a third generation veteran.
Shirakawa is an educator. Until his election to the City Council, Shirakawa had been an administrator in the Eastside Union High School District. That experience in management was immediately evident. Shirakawa is a high energy person and obviously very organized.
Shirakawa says that after the election he went back to the Eastside Union District for a little over a month to help out with some projects, including the Eastside Scholarship Program for that District. He worked on those tasks from 7:30 am. to 8:30 – 9 p.m. each evening. He didn't take a vacation after the very arduous campaign that had him walking precincts every day.
Shirakawa says that he made a campaign promise to be seen on his bike on the weekends riding throughout the District so that he can talk to the residents. He was especially pleased that last weekend after spending some time visiting with a District 7 resident while on his excursion through the District, the man said "you really did mean it when you said we would see you out here – everyone else made promises that they had no intention of keeping."
According to police reports and many residents in District 7, there have been serious drug related problems there. The residents have been asking for help in solving the problem. The City had begun "Project Crackdown" last year – a project designed to concentrate law enforcement assistance there with the active involvement of the residents of District.
Reducing the drug and drug related problems is a major objective of Shirakawa's. He was very proud to state that not only was "Project Crackdown" still in place but that the project had been expanded. Through a cooperative effort with the school district, there is funding in place to establish an adolescent health wellness center. Funding for this project could reach 5 million dollars. The location of the center has not been determined. Shirakawa points to this project as an example of his view that some problems and community needs are best met with a collaborative effort between schools, philanthropic foundations, the County and the City.
Another key component of the Shirakawa work plan is to involve District 7 residents more directly in District and City Government affairs by helping him address the needs of the District. He has assigned one on his staff persons. Elena Morales to be responsible for reaching out to the community. With a focus on the community, Shirakawa plans to achieve those goals by working with already established neighborhood groups and community organizations including school; Parent Teacher Organizations, mobile home groups and other groups, in order to more effectively attend to the needs of the various neighborhoods in that District. He says that where there are no existing groups or organizations, Council Aide Elena Morales will help them form a neighborhood group.
Shirakawa says he does not believe in telling people what is good for them but prefers to listen to what "they will tell us". His staff was busy working on preparing a data base for the concerns raised by District 7 constituents, in order to develop priorities for their resolution. He calls this a "effective response Program."
Money, Shirakawa says, will always be a concern which he believes he will be able to alleviate by duplicating the plan that he developed for the youth wellness center and using it to work as a model to fund some of the other needs in the District.
While campaigning for office, Shirakawa found that many residents in the District felt that neighborhood services for their District had been forgotten because of the Council's unwavering attention to downtown San Jose. Shirakawa says that District 7 residents are not opposed to downtown redevelopment, but rather do not wish to have their neighborhoods neglected. Shirakawa says he made it commitment to District 7 residents to find ways for the City to provide those neighborhood services that every neighborhood in the city has a right to expect from the City.
Serving on the City's Community Services Committee was Shirakawa's first priority because of his District's appeal for neighborhood services. Shirakawa was pleased that the new mayor, Susan Hammer, had honored his request by naming him Vice Chair of the Community Services Committee. The departments included in the Community Services Committee are; Convention and Cultural Facilities, Library, Neighborhood Preservation, Neighborhood Maintenance, Recreation, Parks and Community Services. Former Vice-Mayor Alvarado is the chairperson of the Community Services Committee.
Many of the services mentioned above, such as; Parks and Recreation. Library and other city services like Planning and the Arts, have commissions to which San Jose citizens are appointed. Councilman Shirakawa would like to have many District 7 residents apply for these positions as they become available. It is here that many important decisions are made before they are presented to the City Council. On occasion these commissions have meetings in the various Districts as a way of involving the community in the decision making. Serving on one of these committees or commissions is a learning experience and worth the time it takes to be involved.
Shirakawa says that any one interested in serving on a Commission or committee should call the City Clerk's Office to ask for an application, or to inquire about open positions. The City Clerk's number is 277-4424.
George Shirakawa says that he has much to learn, much that he wants to do and feels that serving as a District 7 Councilperson is a "great opportunity" and a job for which he seems especially well prepared.
One already thorny issue facing District 7 is how best to develop Communications Hill. There are some who feel that additional construction on that hill is not desirable nor environmentally sound and others, including the owners of the property wish to construct housing on the vacant land. Shirakawa says that that his office will be very involved in that issue, even if it means he has to assume the chairmanship of the committee studying the land development proposal in order to get the best possible solution for that land.
Shirakawa is planning to bring City Hall to the residents of District 7 via District meetings, where various City Department staff members will be present to listen to the concerns of the citizens, as well as to let the community know the extent of services that the city does provide and how to access those services.
Shirakawa says a major goal of his to make government more responsive to the community and that citizen participation can make the difference. Shirakawa is a thoughtful, well organized, and energetic individual. These qualities should serve him and his District well.
Others serving as assistants to Shirakawa besides Morales are Chief Administrative Assistant, Dave Garretson, and Council Aide, Sylvia Ramirez. To speak to anyone in that office, the telephone number is 277-5226.