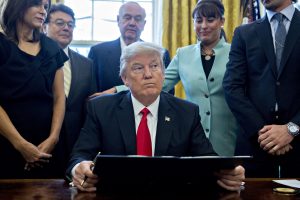 Washington, Jan 30 (EFE).- President Donald Trump on Monday signed an executive order designed to drastically reduce regulations imposed by the federal government and establishing that for each new rule imposed, two others must be eliminated.
Moments before signing the order in the Oval Office, Trump explained that the move was designed to "knock out two regulations for every new regulation" imposed by the federal government.
The president signed the measure surrounded by small businessmen, with whom he had met at the White House shortly before, saying "This will be the biggest such act that our country has ever seen. There will be regulation, there will be control, but it will be normalized control."
With the order, the president is fulfilling one of the key promises he made over the course of his campaign, during which he charged that excessive federal bureaucracy is impeding the country's economic growth.
In accord with the order issued on Monday, which does not cover certain regulations involving defense and national security, government agencies will have to suggest which regulations they want to have revoked when they are planning to implement a new one.
"We don't need 97 different rules to take care of one element," said Trump during his meeting with the small business owners, telling them that "The American Dream is back."
A week ago, on his first workday in the White House, Trump said that his aim was to "cut regulations by 75 percent. Maybe more, but by (at least) 75 percent."
At the time, Trump argued that the "problem" with the current regulations is that "you can't do anything," specifically citing the case of environmental protection and adding that the matter is "out of control."