Washington, Jan 31 (EFE).- Homeland Security Secretary John Kelly on Tuesday insisted that President Donald Trump's decision to prevent the US entry of refugees and citizens from seven Muslim-majority nations is not a "travel ban," but rather a "temporary pause that allows us to better review the existing refugee and visa vetting system."
Kelly said at a press conference that "This is not – I repeat – not a ban on Muslims. … Religious liberty is one of our most fundamental and treasured values."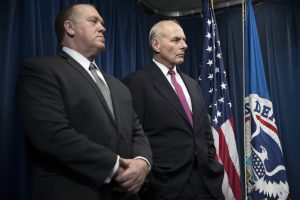 The new DHS secretary insisted that the executive order signed by Trump on Friday, and which has generated numerous protests and significant political backlash both at home and abroad, seeks to protect "the lives of Americans."
He said that the seven countries specified in Trump's order – Iraq, Syria, Iran, Sudan, Libya, Somalia, and Yemen – "are those designated by Congress and the (Barack) Obama administration as requiring additional security when making decisions about who comes into our homeland."
Meanwhile, at the same press conference, Kevin K. McAleenan, the interim director of the Customs and Border Patrol Agency, said that this week 872 refugees had been given permission to enter the US and constituted an exception to Trump's order.
The travel exemptions come after Trump's decision to indefinitely bar US entry for 120 days to all refugees and the issuing of visas for 90 days for citizens from the seven countries, which have histories of terrorism and terrorist activity, until new mechanisms can be put in place to screen them more effectively.
Experts have said, however, that the ban fails to cover countries whose citizens have posed actual terrorist threats in the past, including Saudi Arabia, Egypt, Pakistan and the United Arab Emirates.
Regarding the seven nations, Kelly said that the administration wants to see those countries removed from the list but, at present, the US does not have a method of robustly enforcing the law and properly screening refugees and others from them.
Acting Attorney General Sally Yates on Sunday ordered attorneys at the Department of Justice not to defend Trump's order, saying that she had doubts about its constitutionality, but the president immediately fired and replaced her.