January 15, 1991
By Yolanda Reynolds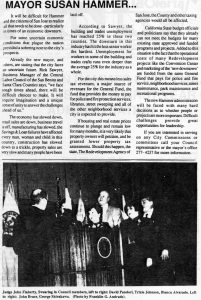 San Jose's Convention Center Ballroom was overflowing with a large congenial crowd of well wishers at the formal inauguration of the new San Jose Mayor, Susan Hammer, three new council members and two reelected council members. The new council representatives people are: Trixie Johnson, representing District 1 (formerly represented by Lu Ryden); David Pandori, District 3 (formerly represented by Susan Hammer) and George Shirakawa from District 7, the District formerly Represented by Iola Williams.
The reelected council members were Jim Beall, of District 9, and Blanca Alvarado, of District 5.
In contrast to many inaugural bashes, San Jose's Mayoral inauguration was simple, but elegant in its simplicity. The speeches were short, the music was rousing and the people were greeting each other with wishes for a good new year.
All members of the new City Council were present, with the exception of Council member Joe Head who could not attend because of family related reasons.
The evening's ceremony began with a short welcome to the large audience by the newly appointed Vice-Mayor, Patricia Saucedo. Saucedo invited everyone present to stay for the reception after the swearing-in ceremony and also invited every one present to the annual Mayor's Unity Breakfast, Jan. 23, which will be held at the San Jose Convention Center Ballroom. The Unity Breakfast is a tradition that was begun by the previous mayor.
Judge John Flaherty, a longtime friend of the Hammer family, presided over the evening's swearing-in ceremonies. Phil Hammer, a local attorney and husband of Susan Hammer stood by her side as she was formally sworn in.
Susan Hammer is the second woman to serve as the Mayor of San Jose. The first female mayor of a major metropolitan city, San Jose, was Janet Gray Hayes.
Hammer began her involvement in city government as the Chairperson of Hayes' election campaign. Hammer later became an administrative aide to Mayor Hayes. At that time the Council had just moved to the 6th floor of City Hall, where it is currently located. Hammer first office there was a windowless broom closet where room was made for a desk and a chair.
Hayes has been Hammer's mentor throughout these many years.
When a council seat became available, Hayes appointed Hammer to a then at-large Council seat. Hammer has since won reelection twice to the City Council.
Mayor Hammer, in a three-minute speech, stated that control and managed growth, education and care of the youth, the environment and a city government open to all of the people of the city's neighborhood would be a focus of her administration. Hammer said, "how we interact as people is more important than the type of buildings we construct."
Many who heard these words hoped her remarks suggested a different focus for city government from that of the previous mayor. Hammer stated in her address what should become the motto for her administration –  'juntos si podemos' and implored the help of all of the citizens of the city in making it a better place in which to live.
Attorney Fernando Zazueta, a long time Hammer friend and supporter says, that the new mayor "genuinely wishes to involve the neighborhoods and ethnic communities in City government and its decision making process." He says "you will find throughout her administration the 'pueblo unido' concept not only in the sense of city, but as a united city."
Indeed, her introductory remarks spoke to the diversity of the city and stressed that "there is great strength to be found in that diversity."
Another long time San Jose resident, Child Care Commissioner, Nancy Wedge said that under Hammer's guidance and support the Commission has finished developing the organizational and programs plan that will allow the City to develop a model for an employer based childcare plan for city employees that can be replicated not only by governmental agencies but businesses and other entities as well. Hammer established the Child care Commission a year ago. Wedge is a noted child care specialist, who has had many years of experience in managing affordable parent participating early childhood care.
It will be difficult for Hammer and the citizens of San Jose to realize all that needs to be done — particularly in times of an economic downturn.
For some uncertain economic conditions that plague the nation provided a sobering note to the city's prospects.
Already the new mayor, and others, are stating that the city faces an uncertain future. Rick Sawyer, Business Manager of the Central labor Council of the San Benito and Santa Clara Counties says, "we face tough times ahead, there will be difficult choices to make. It will require imagination and a unique sense of unity to answer the challenges ahead of us."
The economy has slowed down, retail sales are down, business travel is off, manufacturing has slowed, the Savings & Loan failures have affected every man, woman and child in this country, construction has slowed down to a trickle, property sales are very slow and many people have been laid off.
According to Sawyer, the building and trades unemployment has reached 25% in these two counties. The downturn in this industry has hit the less senior worker the hardest. Unemployment for workers in some of the building and trades crafts runs even deeper than the average 25% for the industry as a whole.
For the city this means less sales tax revenues, at major source of revenues for the General Fund, the fund that provides the money to pay for police and fire protection services, libraries, street sweeping and all of the other neighborhood services a city is expected to provide.
If housing and real estate prices continue to plunge and remain low for many months, it is very likely that property owners will petition, and be granted lower property tax assessments. Should this happen, the state, The Redevelopment Agency of San Jose, the County and other taxing agencies would all be affected.
California State budget officials and politicians say that they already can not meet the budgets for many existing state approved and funded programs and projects. Added to this situation is the fact that the operational costs of many Redevelopment projects like the Convention Center and marketing of the 'new downtown' are funded from the same General Fund that pays for police and fire service, neighborhood services, street maintenance, park maintenance and recreational programs.
The new Hammer administration will be faced with many hard decisions as to whether people or projects are more important. Difficult challenges provide great opportunities for leadership.
If you are interested in serving on any City Commissions or committees call your Council representative or the mayor's office 277- 4237 for more information.