Los Angeles, Jan 31 (EFE).- San Francisco Mayor Ed Lee announced Tuesday that the California city has filed a lawsuit against President Donald Trump over his decision to withdrawn federal funds for "sanctuary cities," which protect undocumented migrants from deportation.
Last week, Trump signed an executive order to deny federal funds to cities that refuse to provide federal authorities with information about the immigration status of people there. Those "sanctuary cities" include San Francisco, Los Angeles, Chicago and New York, among others.
During the election campaign, Trump promised that he would take action against sanctuary cities, which number some 300 nationwide.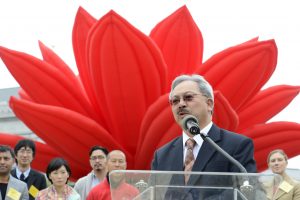 The lawsuit, the first court response to the measure signed by Trump, says that the executive order violates the 10th Amendment to the Constitution, which ensures that powers not granted to the federal government are held by the states.
"In blatant disregard of the law, President of the United States seeks to coerce local authorities into abandoning what are known as 'Sanctuary City' laws and policies," reads the text of the lawsuit, filed in federal court in San Francisco by the city's state attorney, Dennis Herrera.
Trump signed the executive order on Jan. 25 in a ceremony at the Department of Homeland Security in which he also signed another decree authorizing federal funding to begin construction of a wall along the US-Mexico border aimed at halting the inflow of illegal migrants.
Two days later, the president sparked enormous controversy and confusion, both domestically and abroad, last Friday by signing the executive order designed to combat jihadist terrorism.
The order suspends for 120 days the entry of all refugees and the issuing of visas for 90 days for citizens from seven countries, which have histories of terrorism and terrorist activity – Libya, Sudan, Somalia, Syria, Iraq, Yemen and Iran – until new mechanisms can be put in place to screen them more effectively.
The temporary ban on Saturday created chaos and outrage around the world, while numerous travelers found their access to US territory blocked and protests were staged at several US airports and in a number of cities across the country.
The attorney general of Washington state, Bob Ferguson, on Monday filed a lawsuit against "Trump, the Department of Homeland Security and other high ranking Trump officials" over the president's executive order on refugees and migrants, thus making the northwestern state the first to take that step.