Santiago, Feb 1 (EFE).- President Michelle Bachelet on Wednesday announced the allocation of 4 billion pesos (about $6.18 million) to the country's Firefighters Corps, which is heavily involved in fighting a series of wildfires in central and southern Chile.

The president announced the allocation after welcoming the heads of the Chilean Firefighters Board to the Casa de Moneda, thanking them for their intense work in the zones affected by the blazes.

"Four thousand firemen, men and women, have entered into combat against the fire. We owe them a great deal as a country," Bachelet said.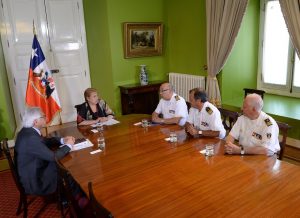 In addition, she announced that she was sending to Congress a bill to improve conditions at the National Emergency Office (Onemi) and create the National Forest Service within the next three months.

"Our aims are, above all, to save people, animals – whether they be productive or pets – and, where possible, homes," said the president regarding the fight against the fires.

Bachelet went on to say that on Wednesday that the personnel deployed in the affected zones numbered 20,434, including government officials, the military, members of the Carabineros – Chile's militarized police – and the Investigative Police, along with employees of assorted public agencies.

She emphasized the presence of 685 additional firefighters from Colombia, Mexico, Peru, Bolivia, Argentina, Panama, Brazil, Venezuela, the United States, France, Portugal, Spain, Russia, Japan and South Korea.

Meanwhile, Finance Minister Rodrigo Valdes said that the Treasury has "more than enough resources" to deal with the fires, ruling out the need for a law authorizing funds to confront the emergency.

Furthermore, although the State Secretariat acknowledged that Chile's GDP will be affected, saying "it's not so significant, this will probably be seen in the GDP, but it's not going to be a macroeconomic catastrophe."

According to the latest government report, on Wednesday there were 136 active fires nationwide, of which 72 are being battled, 63 have been brought under control and one has been extinguished, affecting a total of some 576,000 hectares (1.44 million acres) since July 1, when the current fire season began.