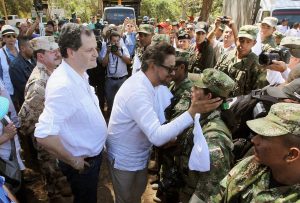 Pondores, Colombia, Feb 1 (EFE).- Colombian army officers and leaders of the FARC rebel group shook hands in this northern town on Wednesday to mark the official end of a conflict that began in 1964.
The ceremonial meeting took place in one of the 26 transitional zones, collectively known as ZVTN, where the roughly 6,300 remaining fighters in the Revolutionary Armed Forces of Colombia (FARC) are gathering to prepare for disarmament and demobilization under the terms of a peace accord signed in November.
"This is a moment of joy for the country," the high commissioner for peace, Sergio Jaramillo, said to more than 100 troops of the FARC's 59th Front, who stood before him in formation.
With the arrival of rebels in Pondores and other ZVTN sites around Colombia, "the final march of the FARC is coming to an end," he said from a makeshift platform where he was joined by the head of the Strategic Transition Command, Gen. Javier Florez, and rebel No. 2 Ivan Marquez, who helped negotiate the peace agreement.
The three men climbed down from the dais and mingled with the FARC troops, many of them women, all in uniform and with rifles slung on their shoulders.
"Peace with the FARC is a reality," Gen. Florez said amid guerrillas eager to shake hands with their former adversary.
"Something good is happening in Colombia, and it is peace," Marquez said. "We are here to tell Colombia that the peace process is in motion."
Jaramillo urged Colombians to overcome skepticism about the peace process, which he blamed on "people dedicated to sowing fear."
"All of us together will defeat fear and build peace," he said, describing the re-integration of the FARC into society as "a moment of uncertainty."