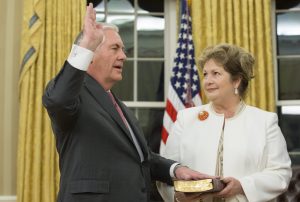 Washington, Feb 1 (EFE).- The US Senate on Wednesday confirmed oil executive Rex Tillerson as secretary of state.
Tillerson, 64, who was nominated by President Donald Trump, will take over the US diplomatic corps at a delicate time for the country after the open breach with Mexico following Trump's executive order to start building a wall along the US southern border, the mistrust aroused by Trump within the European Union and the difficult situation in the Middle East.
In a 56-43 vote, Tillerson received approval by the full Senate after easily obtaining approval within the body's Foreign Relations Committee, where his links with Russia initially put him in a tight spot.
In that committee, Republican Senators John McCain, Lindsay Graham and Marco Rubio expressed their concerns about Trump's position vis-a-vis Moscow and the friendly relationship Tillerson, the former ExxonMobil CEO, has enjoyed with the Kremlin, but they ultimately supported the president's nominee.
Graham said it was disturbing that Russian President Vladimir Putin had awarded Tillerson the Kremlin's Order of Friendship in 2013 while McCain said, alluding to the businessmen, that he did not understand how someone could be the friend of a former KGB agent, referring to Putin, who served in the spy agency for years.
Despite Trump's statements that he would like to have better relations with Russia, Tillerson surprised senators in more than eight hours of testimony during his committee confirmation hearings by failing to praise Moscow and avoiding raising further concerns among lawmakers already alarmed over reported Russian interference in the US election in November.