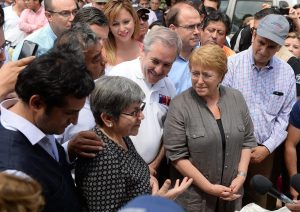 Santiago, Feb 2 (EFE).- President Michelle Bachelet on Thursday presented new figures on the wildfires that are affecting a significant portion of central and southern Chile, calling the government's response to the catastrophe "historic."
"This is a sign that in the face of the largest fires in our history we're also responding in an historic manner, both in technical and human areas," the president said after visiting some of the areas directly affected by the blazes in the southern Biobio region.
According to the latest official tally, there are 123 active fires nationwide, of which 62 are currently being battled, 58 have been brought under control and three have been extinguished, affecting a total of some 586,000 hectares (1.46 million acres) since July 1, when the current fire season began.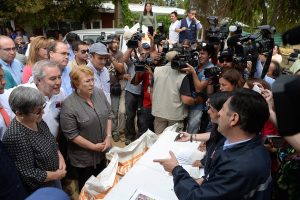 "More than 20,000 people are deployed in firefighting and support tasks. A total of 1,351 Chilean rural fire brigade members, 628 foreign firefighters and experts, 9,434 members of the armed forces, 4,000 (other) firefighters, 2,393 members of the Carabineros – Chile's militarized police – and Investigative Police and 2,397 public officials" are battling the blazes, the president said.
"On Thursday, a team of specialists from the United Nations arrived in Chile and will deploy to the regions of Maule and Biobio to undertake an evaluation … of the emergency," Bachelet said.
The UN group, which was dispatched to Santiago in response to a Chilean government request, includes 10 international experts from Bolivia, the United States, Guatemala, Honduras, Italy, the United Kingdom and Switzerland.
On her tour of the areas affected by the fires, Bachelet thanked the countries who have sent help.
She also expressed gratitude for the dispatch of firefighters from other nations, as well as the cash donations via assorted organizations in Canada, Germany, the United States, China, South Korea "and the United Arab Emirates, which has provided … $5 million in cash."